Chris Parker
Meet Chris Parker who has worked with some big names in the music industry and is looking forward to a return to normality.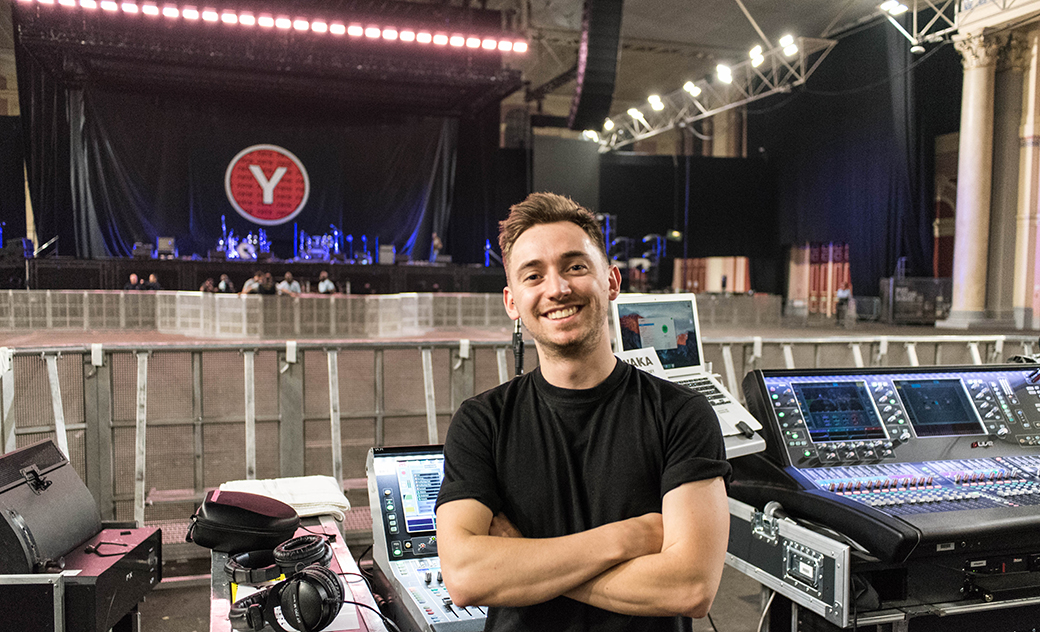 Rock and roll!
Chris says, 'I decided to study BSc Music and Sound Design Technology with the aim of being a musician (bass player) with flexible tech skills, as I saw this as a way to diversify and stay ahead of the traditional 'performance only' roles in a changing industry.'
Upon finishing his undergraduate degree at Herts he was able to use the exclusive 20% alumni discount on postgraduate courses (PG) to continue his studies with us.
'With the help of the postgraduate discount I decided to do the MSc Music and Sound Technology (Audio Engineering) course. It was flexible enough to allow me to use the skills I'd learnt from my first degree and work experience at Uni to go out and develop as a freelance Audio/Lighting Technician.'
University life
When speaking about how his studies helped him, Chris says 'In and out of my studies, I was able to try out the many different facets of the music industry, such as studio recording and mixing, radio broadcast production, stage management etc.'
'I said "yes" to as many opportunities as I could while I was studying, working late nights and early mornings doing part-time jobs around the University. This included working at the Student's Union at The Forum Hertfordshire, being a Stage Manager in the Weston Auditorium and working in the University Music Studios.'
'The course gave me knowledge of a range of audio fundamentals, but I think what was most beneficial to me was working as a Sound and Lighting Tech at The Forum.'
'The staff and facilities here were central to my learnings, allowing me to make mistakes and learn from those errors in a pressure-free environment. The live side of the industry really worked for me as I enjoyed meeting people, travelling and the energy of making the show happen in front of a crowd.'
A competitive world
Chris was under no illusion as to how competitive the music industry can be but was determined to succeed, 'I knew it was a difficult industry to get into and make a viable career out of, so I understood that I'd have to work extra hard to make it happen.'
Highlights...so far
When asked about his career highlights, Chris feels he has been lucky to do something that he enjoys so much. He says, 'It's been incredibly rewarding making bands sound louder and look brighter across the world.'
'I have toured the USA, Europe and Australia with well-known bands and artists and shows like Lanterns On The Lake at Islington Assembly Hall, The Amazons at Brixton Academy, Mark Feehily (Westlife) at The 02 Arena and Yonaka at Alexandra Palace have been personal highlights, to name a few!'
Improving diversity
When it comes to the subject of diversity in the industry Chris realises it has some way to go. He says, 'I've been lucky to work with diverse performing talent from a wide range of backgrounds on stage, but behind the tech side of things there is a clear problem with diversity.'
'It is something which is slowly improving, thanks in part to the help of organisations like Sound Girls and 3T, as well as new courses offering opportunities like the University of Hertfordshire's BSc Live Sound and Lighting Technology degree.'
Find out more about Sound Girls and 3T.
Impact of COVID-19
While COVID-19 has had a huge impact on almost every industry, live music has been hit as hard as any. So how does it look now for Chris? He says, 'Due to the obvious nature of live events, COVID-19 has had an enormous impact on the touring industry.'
'Where I work at Patchwork London, we've had to diversify our output into live streaming and video shoots. This has seen us provide crew and audio equipment for album launches, ticketed online streams and broadcasts such as The Jimmy Kimmel Show and Jimmy Fallon.'
'It's going to be tough moving forwards to find a sustainable solution until live events as we know it can resume. There are currently lots of crew without work, and concert sound systems and video walls hibernating, gathering dust in warehouses.'
Advice for the next generation
Chris says 'It's tough. There's no set way to get into the live music industry; everyone I speak to has a different story and followed a different path. Work hard consistently, go out of your way to learn things outside your comfort zone and perhaps most importantly, enjoy it.'
The future
Like all of us, Chris is looking forward to a time when we can return to a semblance of 'how it used to be.'
'I hope for a safe and swift return to normality for the live music industry, as the dust settles on the pandemic and the uncertainties of Brexit lift. Life on tour is very demanding, physically and mentally, so personally, in the future I'd like to use what I've learned on the road to production manage large scale events and tours.'
Work hard consistently, go out of your way to learn things outside your comfort zone and perhaps most importantly, enjoy it.