Angelina Ankomah
Meet Angelina Ankomah, Black, Asian and Minority Ethnic Midwife of the Year award winner with a passion for helping people
| | |
| --- | --- |
| Current job role | Diabetic Specialist Midwife - West Hertfordshire Hospitals NHS Trust |
| Year of graduation | 2006 |
| Course of study | BSc (Hons) Midwifery |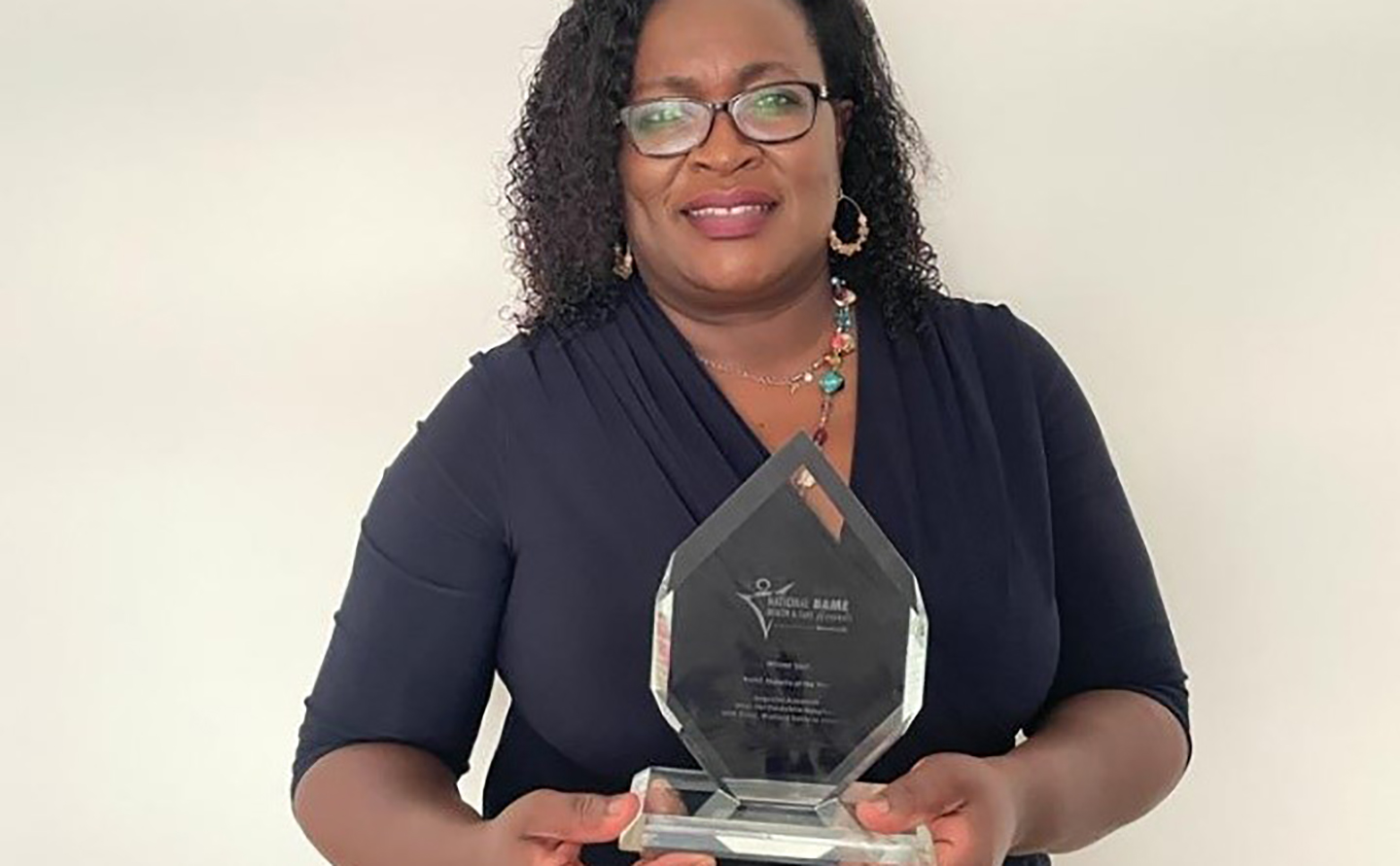 Award-winning midwife Angelina Ankomah (BSc (Hons) Midwifery, 2006) has made a huge impact in society since completing her degree at the University's School of Health and Social Work. This culminated in her being named Black, Asian and Minority Ethnic Midwife of the Year at the 2021 National Black, Asian and Minority Ethnic Health & Care Awards.
The awards recognise and celebrate the achievements of Black, Asian and minority ethnic staff across health and care services, including exceptional initiatives and leadership, and the improvement of services, for people from Black, Asian and Minority Ethnic communities. Angelina was originally shortlisted along with three other midwives from around the country and the judges were highly impressed by her commitment, dedication and inspiring leadership.
Speaking at the time about the award, West Hertfordshire Hospitals NHS Trust's Chief Nurse, Tracey Carter said, 'We are delighted that Angelina has won the 'Black, Asian and Minority Ethnic Midwife of the Year award 2021' and that her outstanding contribution to the maternity diabetes service has been recognised. Her leadership, compassion and commitment has improved care and outcomes for so many of our diabetic mothers.'
A passion for nursing
Looking back on her career, Angelina's dream was to become an accountant and work in the City but she was encouraged by her family to go into nursing. It turned out to be fantastic advice as she discovered nursing was her true passion. Angelina tells us her story,
'I started work as a Health Care Assistant (HCA) on an elderly care ward, which helped me to understand the practice of care within the health profession. I realised that I loved caring for people and supporting them through their journey to good health. I decided to study for a Diploma in Adult Nursing at the University of Hertfordshire in 1999 and this initiated my professional nursing career. '
Studying at Herts
Angelina returned to the University in 2004 to study for her BSc (Hons) in Midwifery and qualified in 2006. She looks back on her time at Herts with great pride and fondness,
'My experience at Herts was exceptional as the lecturers were extremely encouraging and supported me to excel in my academic work to achieve my potential. I have great memories of my time there as it was an environment where I built lifelong friendships.
My fellow students really made it a memorable experience for me as they helped motivate me and were always supportive. Group sessions were very stimulating and engaging; reflecting brings back fond memories of some of the exciting debates we got into as we did our coursework.
The social side of the university was fun, but I can't comment about the nightlife as I had a two-year old at home during that time! Nevertheless, I had a fantastic time whilst studying there.'
Life after Herts
After graduating in 2006 Angelina joined the Midwifery Department of Watford General Hospital where she started off as a junior midwife, working in all areas of midwifery and then finally settling in the labour ward. Her desire to expand her knowledge saw her take on further learning including qualifications in Management of Complex Pregnancies and Management of Diabetes in Pregnancy that eventually led to her current role as a Diabetic Specialist Midwife at Watford General Hospital.
She has also been a guest lecturer here at Herts, teaching midwifery students in the management of diabetes in pregnancy.
Charity work
Angelina is a core team member of The TRIO Bridge Foundation, a UK registered charity focused on the promotion of a holistic and evidence based approach to healthcare provision in developing countries and within Black, Asian and Minority Ethnic communities in the UK.
TRIO-Bridge also works in partnership with selected Black, Asian and Minority Ethnic Nurses Associations in the UK, aiming to bridge cultural and communication barriers. Covid-19 restrictions redirected training methods and as a result, Angelina is now working on a project to assist in pre-health service areas including strengthening faculty, skills development and improving ICT systems to selected health institutions in Ghana.
The future
When talking about her next steps in her career Angelina says,
'At the moment, my role is a very busy one, but I enjoy it. Following my recent Black, Asian and Minority Ethnic Midwife of the Year award there has been a lot of interest in my work, from contributing to magazines to speaking at midwifery conferences.
I would like to have more speaking opportunities at academic institutions, to motivate young Black, Asian and Minority Ethnic students to pursue options in nursing and midwifery as a career path to serve their community.'
Words of advice
Our conversation with Angelina finishes on a very positive note as she concludes,
'I remember as a junior nursing student, during my first day at nursing college, an Irish lecturer encouraged us to give our best to our patients. She told us to always be mindful that the patients for whom we provide care for could be our sister, brother, friend, or uncle, and that they are an extension of us.
This has stayed with me throughout my career, and I have no doubt that following that advice contributed to me being nominated and subsequently winning the Black, Asian and Minority Ethnic Midwife of the Year 2021.'
If you have an inspiring story like Angelina's please get in touch with us at the Alumni Office