University of Hertfordshire hosts successful symposium on substance misuse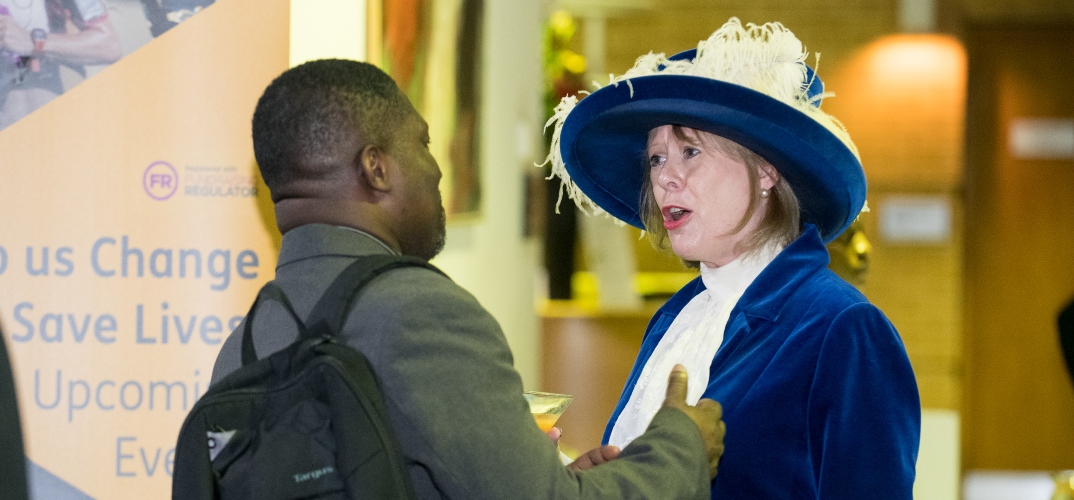 6 March 2023
Earlier this month, experts and representatives from healthcare, local authorities, police and criminal justice, social enterprise, the voluntary sector and local communities came together to address the key issues of substance misuse in a successful symposium at the University of Hertfordshire.
The Hertfordshire Symposium on Substance Misuse - Changing Lives took place on 7 and 8 February, with the aim of addressing substance misuse, its root causes and associated inequalities.
The highly interactive symposium explored the interrelated themes of lived experience, drug support services and policy. Over the two days there were multiple important discussions hosted at the University including:
The current approach to alcohol and drug use in the UK
Harm reduction and recovery
Drug, alcohol and related concerns in Hertfordshire with views from the front line
Future directions and inter-agency collaboration towards social justice
The problem of addiction and illegality
According to crimerate, drug-related crime was the fifth highest category of crime within Hertfordshire in 2021; while the 2019-2024 Hertfordshire Drugs and Alcohol Strategy and Delivery Plan shows that alcohol-related knife crime accounts for 15% of all crime in the county. Aside from criminal behaviour, substance misuse in the county has a significant impact on the health, wellbeing and safety of individuals and their community. For example, two-thirds of people successfully completing treatment in Hertfordshire do not have employment: a key component of recovery1.
The event high-profile expert speakers drew on these themes to explore the best methods of addiction treatment, ongoing support and crime prevention. Speakers included: Sally Burton DL, High Sheriff and symposium sponsor; Professor Dame Carol Black, keynote speaker; Jason Kew, Chief Inspector for Thames Valley violence reduction unit; David Lloyd, police and crime commissioner for Hertfordshire; and Dr James Morris, research fellow at London South Bank University. Professor Fabrizio Schifano, Professor of Clinical Pharmacology from the School of Life and Medical Science was also there to speak about the problem of addiction and how to resolve ideological and practice-based approaches to recovery and treatment.
Professor Dame Carol Black DBE, FRCP, FMediSci said: "Improved treatment services will not be enough on their own to help people achieve and maintain recovery. A broader package of services is needed, involving also well-coordinated housing and housing support, employment support, and mental health services".
The event was a huge success with 120 delegates from over 40 organisations. The co-chairs of the Hertfordshire Drugs Strategy Board have invited Penny Carey, Dean of Hertfordshire Law School, and Diana Kirsh, Associate Dean Enterprise, to present a summary of the symposium's roundtable discussions to an extraordinary meeting of the Hertfordshire Drugs Strategy Board – a partnership of external organisations and County Council departments. This will contribute to the Board's upcoming review of Hertfordshire's county-wide drugs strategy, making a tangible impact for people in Hertfordshire whose lives are affected by drug use and addiction. Local charity Herts CDA supported with the organisation of the event and are collaborating with the follow up work.
Professor Jim McManus, co-chair of the Hertfordshire Drug and Alcohol Board said: "Our Drug and Alcohol partnership has achieved a number of significant successes: one of the first areas to introduce systematic drug testing on arrest, one of the early adopters of naloxone to reduce overdose and one of the first police forces to have officers carry naloxone. But we know that there is much more to it and working together to reduce the harm to individuals and communities from drugs is something core to our ambition for a healthier and safer county."
The University of Hertfordshire has a strong track record of research into psychopharmacology, drug misuse and novel psychoactive substances, contributing to policy and legislation at UK and European levels. By combining academic expertise from our School of Life and Medical Sciences and Hertfordshire Law School, with on-the-ground knowledge of local authorities and community organisations, the team behind the symposium are hopeful of a long-term, impactful collaboration.
Penny Carey, Dean of Hertfordshire Law School said: "Hertfordshire Law School were delighted to host this important symposium, drawing on the key themes of the Sally Burton DL's shrieval year to enhance collaborative links between agencies working in the area of addiction to drugs and alcohol across the country. We have been absolutely delighted by the positive response from so many key stakeholders, and look forward to both continuing the conversation, but also encouraging our students in law and criminology to seek graduate careers working in this important area."
Following the success of the symposium, Sally Burton DL, High Sheriff and Symposium Sponsor said: "From the beginning of my year as High Sheriff, I had a vision of bringing people together to debate the impact of addiction of drugs and alcohol within Hertfordshire and beyond. Penny Carey and her team in the Law School at the University of Hertfordshire embraced the idea with enthusiasm, culminating in the two-day Symposium on Substance Misuse in February."
"The outcome has far exceeded expectations, the massive interest in the subject witnessed by the quick sell-out of places, the breadth of public, private and voluntary agencies involved, and the depth of the discussions which resulted. This is just the start. Positive feedback, strong support for exploring the issues further and a firm intention to capitalise on the links formed between the agencies, have all endorsed the Symposium as a platform for future collaboration and debate, bringing my vision into reality."