University of Hertfordshire exhibits 'What Were You Wearing?' installation to spark conversation around sexual assault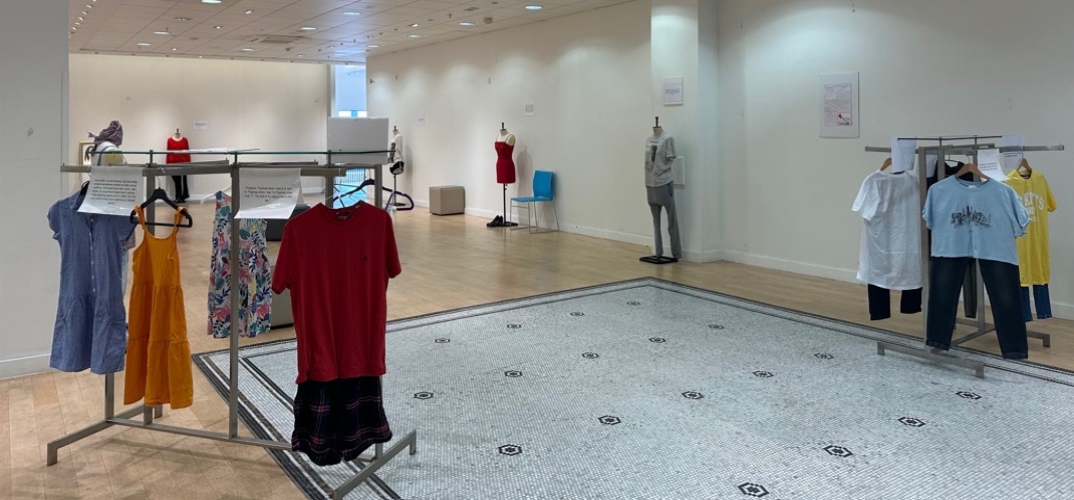 10 February 2023
Content warning: sexual assault and rape
A powerful new exhibition dispelling common myths about sexual violence will be displayed in Welwyn Garden City from 13 – 17 February 2023.
The What Were You Wearing? installation, curated by students and staff at the University of Hertfordshire in collaboration with Red Kite Rape & Sexual Abuse Support Service, a charity based in East Hertfordshire, aims to raise awareness and tackle assumptions about the victims of sexual violence.
The exhibition will feature testimonies from real victims of rape and sexual assault, alongside a representation of what they were wearing when they were assaulted – underlining that someone's experience of sexual violence can never be blamed on their clothing or appearance. The organisers also aim to challenge stereotypical views of who can become a victim, with testimonies and outfits representing all genders, ages and experiences.
A similar installation was held last year at the University of Hertfordshire campus and was a huge success. This year's event will be even bigger, expanding to include art, posters and poetry, which the organisers hope will reach an even wider audience. The exhibition is inspired by a global movement, with similar events taking place across the globe in recent years.
Loren Aliu, Lecturer in Criminology at the University of Hertfordshire's Law School, who has helped to organise the exhibition, said: "I believe that this exhibition enables us to facilitate those difficult conversations regarding rape and sexual violence. It was a huge success last year; we want to continue to challenge out-dated perceptions of rape and we want survivors to know that help is available. This is a great opportunity for the University to work with Red Kite to find ways to tackle the prevalence of rape and sexual violence in the local community".
"We hope that the exhibition raises awareness about rape and sexual violence. We also hope that we can educate people and help to dispel rape myths. Particularly, we want to challenge the notion of routine 'victim-blaming' such as by asking victims 'What Were You Wearing?'. Most importantly, we want the local community to know that help is available, and that Red Kite is committed to supporting all survivors of rape and sexual abuse".
"Rape and sexual abuse are some of the most under-reported crimes and therefore, the true extent of rape and sexual violence in our local community is unknown. We believe that it is important for our local community to understand the impact of these offences and we hope to encourage survivors to seek help".
Siobhan Nundram, Chair of the Board of Red Kite and Sexual Abuse Support Service said: "Red Kite are pleased to be staging this exhibition in conjunction with the Hertfordshire Law School in order to raise awareness and educate the public. Until and unless there is a huge culture shift, where the perpetrators of rape and sexual assault are treated with the same levels of revulsion as those who commit murder, there will still be a need for services such as ours".
"We are pleased to be able to provide services to help people heal but how good would it be if we had a society where we didn't have so many victims/survivors? We need to change tolerance levels and empower people to call out abusive or devaluing behaviours. We need a call to arms to rid our public services of hidden perpetrators and restore the public's confidence".
"We are excited to be working with the University to campaign to strengthen the laws and increase the number of perpetrators who are caught and held accountable for their heinous crimes because it is then that perpetrators will think twice about assaulting and raping other for their own gratification. We are looking to create a permanent legacy following this exhibition to ensure that we honour those who have suffered from rape and sexual abuse at any time in their lives and create the change we want to see".
'What Were You Wearing?' will take place between 13 – 17 February from 9:30 – 17:30. It is free of charge and open to the public.
If you need support and are a University of Hertfordshire student, you can contact the Student Wellbeing team. Alternatively, you can contact Red Kite's helpline (01279 790450) or the Herts Sexual Assault Referral Centre (herts.sarc@nhs.net / ​0808 1784448).