University of Hertfordshire celebrates futsal win at the University National Championships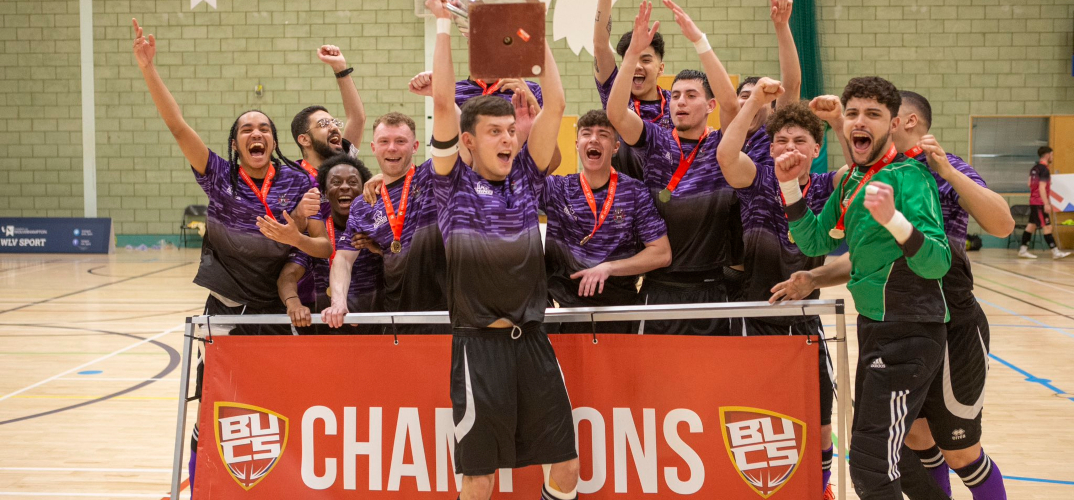 12 May 2023
The University of Hertfordshire's men's futsal team created history by winning the University National Championship final on Wednesday 10 May. This is the club's very first national success.
The championships saw Herts win 7-3 against Nottingham Trent, securing the national title and reputation as the number one futsal programme in the university sector. After an outstanding league campaign, which saw the team remain undefeated in securing the national premier league title, the national championship was secured with wins over both Northumbria and Loughborough on route to the final.
Futsal is a football-based game that is played indoors on a small court. It is played between two teams of five players, with rolling substitutes and a smaller ball than football that is harder and less bouncy. The small amount of space requires players to have great technique and skill.
Gavin Davies, Head of Marketing at Hertfordshire Sports Village, said: "This is a truly incredible achievement, so early in the development of the futsal programme at Hertfordshire, and one we are proud to celebrate. The credit should go to the players, who have bounced back so positively after last year's final defeat, head coach Juan Tapia Owens, and the HertsSquad staff who continue to support and guide the programme so diligently".
Find out more about the men's futsal club here.