Special Olympics Great Britain and University of Hertfordshire partner to develop Unified Football team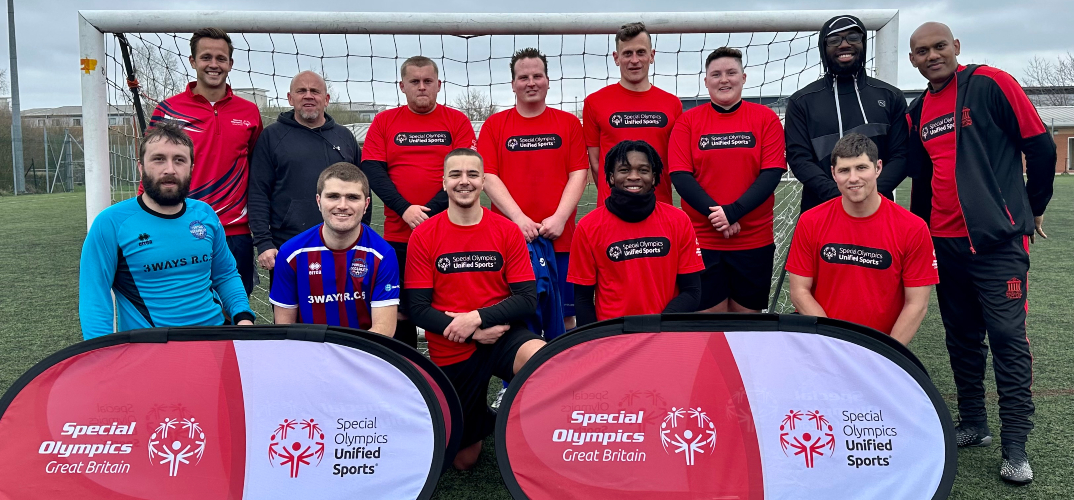 5 April 2023
Special Olympics Great Britain has teamed up with the University of Hertfordshire to bring together six athletes with intellectual disabilities with five current students to form its Unified Football team, which will compete at the Berlin 2023 Special Olympics World Games.
Special Olympics GB is the UK's largest provider of year-round training and competition for children and adults of all abilities with intellectual disabilities. Unified Football is a concept unique to its global community that sees athletes with and without intellectual disabilities play together on the same team in a 7-a-side format.
In November last year, five athletes from the Special Olympics Essex club and one from Special Olympics St Albans were announced as the first members of the Unified Football Team that will compete at Berlin 2023 in June. Today, the five Unified Partners (athletes without intellectual disabilities) have been announced as University of Hertfordshire students:
Daniel Famosa (19), Sports Coaching student from Woolwich, London
Adeyinka Adewale (22), Engineering student from Kennington, London
Al Maxin (20), Sports Coaching student from Henham, Essex
Hayden Miller (21), Sports Coaching student from Hatfield, Hertfordshire
Alan Thomas (20) Sports Coaching student from India, living in Luton, Bedfordshire
The Special Olympics GB Unified Football team, which is being supported on its journey to Berlin 2023 by the League Managers Association, will play a minimum of five games at the Special Olympics World Games. The squad form part of a delegation of more than 80 athletes with intellectual disabilities who will represent Team Special Olympics Great Britain in 17 sports.
Ben Mathews, Programme Development Manager at Special Olympics GB and Head Coach of the Unified Football Team, said: "We're very grateful to the University of Hertfordshire for partnering and for helping us select our five Unified Partners who complete our squad for the Special Olympics World Games.
"We want to grow our Unified Sports offering across the country and taking a squad to Berlin 2023 is a great way to increase awareness and hopefully encourage more grassroots football clubs to develop unified teams.
"Ultimately, unified sports are one of the most inclusive sporting opportunities that exist, and they break down barriers and stereotypes, and help more people with and without intellectual disabilities develop friendships. It's an opportunity that we're committed to developing across other team sports."
The Special Olympics World Games opens at the iconic Olympiastadion Berlin on Saturday 17 June, with eight subsequent days of competition before the closing ceremony on Sunday 25 June.
Jenny Jones, Subject Group Lead for the Institute of Sport at the University of Hertfordshire, said: "We are thrilled that five of our students have been selected as Unified Partners in the team. I know they will have a fantastic experience, not only attending the games in Berlin, but getting immersed in unified sports and all that it offers.
"At the University of Hertfordshire we are firm believers in making sport and physical activity accessible to all, so I am delighted that we can play our part in one of the most inclusive sporting initiatives in the country. We're looking forward to welcoming the whole team to the University for their training – and especially to our new Institute of Sport, where we'll be offering full use of the facilities to support the team's preparation for this unique global event.
"We'll all be following their journey to the World Games in June and wish the team every success."
The League Managers Association last week announced that its membership of professional football managers, from across the men's and women's game, is providing equipment access to facilities and funding to enable the Unified Football Team to train like professionals for the Special Olympics World Games.
Alongside upcoming training sessions at the University of Hertfordshire, from 21-23 May the team will train at St George's Park, the proud home to all 23 of England's national football teams, thanks to the League Managers Association support.
More than 6,500 children and adults with intellectual disabilities are currently registered and benefitting from the sporting opportunities at accredited Special Olympics GB clubs in England, Scotland and Wales. All clubs are supported by a devoted team of volunteers, with around 3,500 individuals registered to help the charity deliver its lifechanging work.
Photograph Back Row: Ben Mathews (Head Coach), Nigel Stuart (Coach), Bradley Stuart, Sam Goldney, Jack Venturini, Al Maxin, Adeyinka Adewale, Sham Motin (Coach). Front Row: Daniel Brathwaite, Harry Camm, Hayden Miller, Daniel Famosa, Charlie Hood.