Finding romance at Herts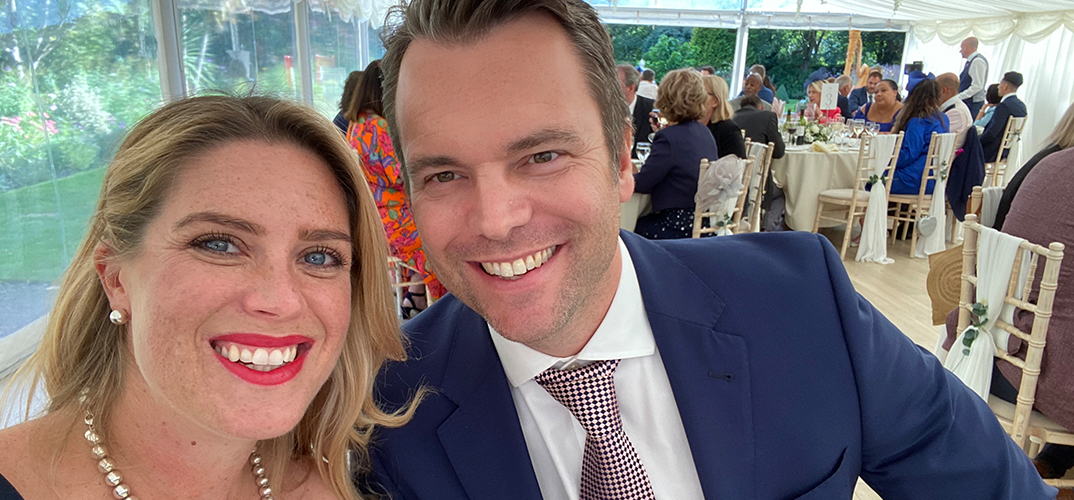 13 February 2023
Your university experience wasn't just about studying. Along the way, you met people that would be there for the rest of your life. For many of you, that would include your significant other!
We asked Herts graduates to share their romantic stories with us to celebrate Valentine's Day.
Lizzy and Christian
Applied Biology graduate Lizzy met her husband Christian (both pictured above) in 2001 during her final year at Herts. When they met, Christian was President of the Herts Hurricanes, the University's American Football Team, and Lizzy had just signed up to their newly formed cheerleading squad. They have two daughters together and will be celebrating 18 years of marriage this year.
Graham and Jo
Graham met his wife Jo whilst completing a BSc Computer Science degree at Herts in the 1990s. They now have two daughters together – one of whom has just begun a university course themselves.
Lorraine and Adrian
Lorraine met Adrian at Herts in 1985 during a walking and climbing club. Last year, they celebrated 40 years together by entering into a civil partnership.
Jay and Aurelija
Creative arts graduates Jay and Aurelija met whilst Jay was a DJ at The Forum, the on-campus bar and nightclub. They recently tied the knot.
Anthea and Bob
Anthea and Bob met at Herts in 1969 whilst studying applied biology. They graduated in 1973 before marrying the following year. They celebrate their 50th anniversary next year.
Blaise and Adaobi
Blaise met his wife Adaobi at INTI College Sarawak in Malaysia whilst studying a University of Hertfordshire degree. They both graduated in 2013 with first-class honours.
They married in Nigeria in 2018 and have two young children together.
Want to add your story or do you have another story to tell? Get in touch with the alumni team by emailing alumni@herts.ac.uk.