BA (Hons) Film and Television (Production) with Optional Sandwich Placement/ Study Abroad
There are currently no clearing vacancies on this course.
About the course
Film & Television
The Film and Television programme is a Creative Skillset accredited course that provides an environment in which students can grow into confident television and film practitioners.
State-of-the-art high-definition tapeless television studio, industry standard shooting and lighting equipment, Avid production suites and an advanced dubbing suite.
Industry sponsors include: BBC, ITV, Avid, Warner Bros, BFI, Elstree Studios to name but a few.
Film & Television Successes
Proud to be winners of the prestigious Royal Television Society London Student Awards for Best Drama 2015 and Best Sound Craft Award 2016, as well as being nominated for Best Documentary 2014, 2015 and Best Entertainment Programme 2016.
The Elstree Project is a unique oral historyarchive charting 100 years of Elstree studios. Since the project began in 2010, over 40 students have been crew members on interview shoots with veterans from the film and television industry at the studios of Elstree and Borehamwood. Some of the stories our students have heard first-hand include what it was like to operate the film camera for Star Wars, design props for Stanley Kubrick and floor manage The Muppet Show, all whilst getting the opportunity to further their practical filmmaking skills. Trips to the studios are a regular part of the project and the work forms part of a vitally important archive.
We are proud to be in partnership with the Edinburgh International Television Festival talent network scheme. This gives some of our final year students access to places on this highly acclaimed new talent programme - helping fast track our graduates in to employment, as they receive mentorship and internships from leading companies and broadcasters such as BBC, Endemol, ITV and Sky.
Film & Television Industry Links
Our prestigious end of year show for final year students The Visions Festival has sponsorship from a stellar list of industry partners:
Avid – Best Post-Production Sound
BBC – Post-Production
BFI – Best Dissertation
Elstree Studios and The Kubrick Estate – Stanley Kubrick Prize for Fiction
ITV – Award for Best Factual Entertainment
Warner Bros Studios Leavesden – Best Production Design
The Lord Lew Grade Foundation - Lord Lew Grade Award for Individual Student Achievement
Zeiss - Best Cinematography
This gives our students strong employability skills. Many prize winners go onto jobs with our industry partners.
Film & Television Student Testimonials
"As well as learning the essentials of how to run a production, I've also learnt how to network and made great connections to use after graduation! I've also learnt lots of technical skills as well as film theory and how to develop an idea into a film. It's a really engaging course which prepares students for what to expect in the industry."
Alice Walker-Mitchell Third Year Student
Film & Television Facilities
This course has a wide range of cameras such as AF101s, steadycam, jib, as well as Black Magic camera for Visual Effects. For post-production there are Avid and FCP suites, and has a dedicated Broadcast standard TV studio.
Royal Television Society Bursary
We're pleased to announce that we will be offering the RTS Bursary again for undergraduates in January 2017. Successful applicants will receive £1,000 each year for three years plus student membership of the RTS and membership of the Hospital Club in London's Covent Garden – a private club popular with media professionals. Full details of the scheme are on www.rts.org.uk.
Thinking about a Postgraduate Degree? Please see our (MA) Film & TV course for more details.
Why choose this course?
Over the three year programme of study, you will develop a range of key skills that prepare you for a role in industry. From scripting to shooting, from editing to audio design, from writing proposals to pitching ideas, our team of TV and film professionals will deliver the practical training, creative flair and business know-how you need to kick-start your career. You will also be encouraged to use the university's excellent links with industry partners - Warner Bros, Elstree Studios, BBC, to name some - to gain access to potential employers via work experience and special events. All of this activity will enable you to assemble showreels and portfolios which demonstrate the breadth and depth of your creative and technical expertise.
Film & Television Production provides an environment in which students can grow into confident television and film practitioners, with a high level of creative and technical expertise, capable of entering the creative industries as effective professionals. The majority of the time will be employed developing practical experience of film and television production and students will be encouraged to combine innovation with market awareness. They will receive course instruction from active professionals as well as a programme of lectures from leading practitioners in the film and television industries. Simulated environments to mirror industry will also be used to ensure students are industry ready.
Please see Programme Specification attached for more detail on course structure.
Entry requirements...
2017 entry
UCAS are introducing a new tariff for 2017 entry so the points being asked for are substantially different to previous years.
104 UCAS points
GCSE Maths and English Language at grade 4 or above (GCSE Maths at Grade D and English Language at grade C or above if taken prior to 2015)
IB - 104 points from a minimum of 2 HL subjects at H4 or above (with the remaining points to come from a combination of HL, SL and Core).
All students from non-majority English speaking countries require proof of English language proficiency, equivalent to an overall IELTS score of 6 with a minimum of 5.5 in each band.
If you do not have the required IELTS or equivalent for direct entry on to your degree programme, our Pre-sessional English and International Foundation courses can help you to achieve this level.
For country specific qualifications, please visit our Your Country page.
Key staff
Lyndsay Duthie
Course director Lyndsay Duthie has 20 years of experience in Television, 10 of them at ITV producing hit programmes, talk shows and documentaries. She is co-author for 'The TV Studio Production Handbook' due for publication in 2016.
Find out more about Lyndsay Duthie
Professional Accreditations
Creative Skillset Tick
Creative Skillset accreditation is awarded in recognition of the highest level of contemporary industry teaching and facilities. This gives potential employers an indication that candidates from our degree course have been trained professionally and are ready to take up an industry role successfully.
Avid Accreditation
Students are offered the opportunity to become Avid accredited (the industry's leading professional editing software) before completing their degree. This is a major advantage for post-production roles strengthening student's applications for positions within the editing departments of film and TV production companies.
Apple Authorised Training Centre for Education
For more information click here.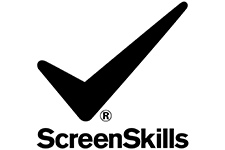 Careers
This suits those that are expecting to work in roles such as producer, director, scriptwriter, researcher, production designer, camera operator etc. For an interest in post-production, the career roles could involve editor, post-production sound or colour grader.
Teaching methods
The course is taught as a range of lectures, workshops and seminars. There are regular field trips to Broadcast Studios such as the BBC and opportunities to attend screenings and live TV recordings such as Channel 5's The Wright Stuff. There are regular guest lecturers from top industry professionals such as British Board for Film Classification, Jan Harlan, Producer of The Shining and Stephen Scott, Production Designer for Hansel and Gretel.
Work Placement
There is a work experience module that students can complete. The course has a dedicated Professional Development expert to help marry up students with work experience opportunities. The course also has numerous external facing clients such as BMW, Elstree Studios and Chapel Music that students can get involved in.
Studying on the Film and Television degree at Hertfordshire offers you the unique opportunity to gain accredited work experience on our own ongoing live research activity - The Elstree Project. Since the project began in 2010, over 40 students have been crew members on interview shoots with veterans from the film and television industry at the studios of Elstree and Borehamwood. Some of the stories our students have heard first-hand include what it was like to operate the film camera for Star Wars, design props for Stanley Kubrick, and floor manage The Muppet Show, all while getting the opportunity to further their practical filmmaking skills. Trips to the studios are a regular part of the project, and the work forms part of a vitally important archive.
Study Abroad
This course offers you the opportunity to study abroad through the University's study abroad programme.
Study abroad opportunities are available worldwide and in Europe under the Erasmus+ Programme.
Find out more about Study abroad opportunities
Structure
Year 1
Core Modules
Story and Script

Narratives of one kind or another are key elements of modern media. Storytelling and character are at the heart of Film and Television. This module looks at the way in which an idea becomes a story, becomes a script of some sort used to organise and inform the film and television production and direction process. Contemporary ideas about stories, characters and narratives and how they work in a range of media are examined and explored. Creative writing activities develop the students' abilities to express ideas, stories, characters and their familiarity with the conventions and formats of scripts commonly used in Film and Television.

Film and Television: Histories and Contexts

This module takes a historical perspective to explore how film and television is shaped by the social, political, economic, cultural and industry contexts in which they are produced. It focuses on the cultural landscape of the 20th Century and the key individuals, artefacts and practices of film and TV production that emerged during this time. A programme of lectures and seminars introduce perspectives on key periods of film and television history, beginning with the invention of cinema and concluding with contemporary digital media practices. Topics may include production studies, industrial and economic practices, national cinemas, television franchising, aesthetics and genre. Learning is furthered by a directed study schedule of relevant reading and viewing as well as additional independent study. Students will also gain skills in research, reading, communication, critical analysis and evaluation, and develop a vocabulary for discussing film and television texts and contexts.

Film and Television Production: Studio and Location Production

This module introduces students to the basic techniques of digital filmmaking, production and directing, location and TV studio recording techniques and sound recording. Through workshops, students typically encounter shot selection and storyboarding, staging and visualisation, camera operation, lenses, lighting styles, colour temperature, three-point lighting, sound recording and the use of microphones, monitoring and mixing, as well as health and safety issues. Students will also encounter TV studio systems and technology including studio lighting, portapromt operation, studio lighting techniques, vision mixing and three-camera recording. In taught lectures, students typically investigate production and pre-production procedures including casting, directing, scheduling, production paperwork (including location agreements, call sheets, 1st AD and sound recording logs and risk assessments) and roles required within different types of digital film and television production. At each stage, students undertake coursework assignments as part of a team, taking on production roles including directing, producing and working in technical roles.

Film and Television Post-Production: Editing and Multi-Platform Content

This module introduces students to the basic techniques of non-linear editing using appropriate software. The focus is on storytelling and how to assemble rushes into a narrative as transferrable skills. Through workshops, students investigate styles of picture and sound editing and are introduced to offline and online processes; key formats and file types including SD and HD, web video, non-destructive editing, codecs and basic systems for managing digital workflows. Students investigate sound editing styles including the pairing of visual imagery with music, track-laying dialogue and sound effects, recording narration and ADR and the use of sound software and hardware for creating a sound mix. At each stage, students undertake coursework assignments as part of a team, taking on post-production roles including editor, colourist, sound mixer and motion graphics and title designer.
Optional
Year 2
Core Modules
Film and Television: Cultures and Aesthetics

This module aims to encourage students to see contextual studies as a vital tool to develop well-informed and innovative production practice in Film and Television. A programme of lectures, seminars, tutorials and screenings provides students with the opportunity to encounter a wide range of international film and television programmes and a selection of media theories, debates and critical perspectives to interrogate them. The module will focus on developing student's understanding of how critical and cultural debates impact upon media aesthetics. To complement discipline-specific studies, this module aims to provide students with a repertoire of study skills of research and enquiry, skills in visual and critical analysis of both artefacts and ideas and communications skills in written and verbal forms including the protocols of academic reference.

Film and Television Media Industries: Professional Development 1

A series of lectures, workshops, seminars and tutorials designed to develop students' awareness of the media marketplace. The module covers a range of topics including the impacts of media globalisation, the role of niche markets, film and television finance and business models, co-production, marketing and distribution. Coursework includes an analysis of a production company and planning a marketing campaign. Alternatively, students may undertake a faculty work experience instead of this module, subject to agreement with the Programme Tutor.

Film and Television Production: Pre-Production and Production

This module enhances the students' understanding of pre-production and production in factual, drama and entertainment programming – offering crossover into both factual entertainment and docu-drama productions too. Students typically investigate strategies for planning, for producing and directing in drama and working with actors. Students consider the applications of production design, locations, wardrobe and make-up. Factual production typically investigates strategies for producing and directing documentary and current affairs projects, selecting participants and interviewees and the integration of archive material. Students are introduced to the requirements of docudrama and re-enactment requiring casting, production design, wardrobe and make-up. Entertainment typically investigates strategies for producing and directing both factual entertainment programmes and studio-based projects. Typically they will work on formats, acquiring presenters and contributors and production design for studio sets. Students undertake coursework assignments in the role of director, producer and writer, as well as in technical roles as team members.

Cinematic Craft Skills

This module enhances the students' understanding of cinematic technical arts in factual, drama and entertainment programming. Students have the opportunity to major in at least one of the craft skills ranging from cinematography, sound design, picture post-production and sound mixing. Students typically learn the practical techniques for using more advanced camera and lighting techniques, grip equipment such as dollies and cranes, fiction sound recording and mixing; while in the studio, they will work on more advanced skills in studio operations, lighting, sound and grip equipment, actual and virtual sets. Different lighting styles and techniques and the use of lenses and cinematography will be taught. In the post-production lab students will develop knowledge in colour grading, asset management and advanced post-production techniques.
Optional
Professional Work Experience 15: Screen

Students may identify a work experience opportunity or have a work experience suggested to them. Before starting students meet with the Programme Leader or their nominated tutor, to agree the impending placement. All aspects of the intended experience are addressed from health and safety to client confidentiality and students are given guidance on behaviour and how to manage expectations. Proposals need to identify an outline work programme, the number of days in placement and the main learning outcomes; and are subject to agreement of the Programme Leader.
Year 3
Core Modules
Optional
Year Abroad

The Year Abroad will provide students in Creative Arts with the opportunity to expand, develop and apply the knowledge and skills gained in the first two taught years of the degree within a different organisational and cultural environment in a partner academic institution. The host institution will appoint a Programme Co-ordinator who will oversee the student's programme during the Year Abroad and will liaise with the appointed UH Supervisor.

Sandwich Year (Creative Arts)

The optional 'Sandwich' placement year may be undertaken between the levels 5 and 6. Students undertake the placement within a commercial, public or not for profit setting that is able to provide an appropriate learning experience related to the creative and cultural industries. A placement could take a variety of forms, including: * working in an external organisation; * working with a University company or professional team within the University; * self-employment within defined context and externally refereed. The placement duration would typically be sustained for at least 36 weeks (from a maximum of two separate placements, neither of which should normally be less than 12 weeks in duration), though may be sustained for a full year. While the School actively supports the placement process, ultimately it is the placement provider that will agree to manage and select students, normally through an interview process. During the placement a member of the academic staff will be assigned to the student as a tutor and will monitor the student's progress during the placement period.
Year 4
Core Modules
Film and Television Media Industries: Professional Development 2

The module delivers a series of lectures, seminars and workshops designed to consolidate the students' understanding of the operation of the media industries and their professional practices. The learning experience and the taught content of the module will include material provided by visiting speakers, which will heighten the students' awareness of the film and television industries. The module addresses career management and the development of presentation and communication skills in preparation for job interviews. During this module, students may undertake work experience of their own arranging with a media production company. Subject to agreement with the programme tutor, students may submit evidence of work experience as part of their assessment for this module. Qualifying work experience can be undertaken either during the previous summer vacation (between L5 and L6) with appropriate evidence, including a reflective report, submitted to be accredited within the module; or during term time in place of one assessed component within the module, or alternatively included as part of a larger portfolio of work. It is the responsibility of the student to negotiate the detail of their work placement; further information is available in the programme specification and School's Accredited Work Experience Handbook.

Film and Television: Pre-Production, Marketing and Distribution

In this module students work independently and in groups to propose, plan and develop a major project in the field of film or television production. Subject to the approval of the course tutor, the main outcome of this module will be a completed script/story outline, schedule and budget for the major project. The project proposal may be based on an individually generated idea that is then developed as part of a team effort. The module typically includes researching and developing an idea, a format or a script, planning a production schedule, budgeting the project, assembling cast, crew and contributors and seeking clearances and consents where appropriate.

Multiplatform Content

This module enables students to develop and learn how to design and create a professional multi-platform campaign to accompany a film or television production – which will be produced in Film and Television Production: Major Project. Students typically will learn about the use and implementation of: - Behind-the-scenes documentary content - Second-screen interactivity - Mobile apps - Interactive games - Website content - Merchandising - Social media Students undertake coursework assignments individually, with a campaign based upon their group final major project.

Film and Television Production: Major Project

In this module students have the opportunity to display the extent of their knowledge and understanding of film and/or television production. Students can engage in a period of sustained creative activity, offering a primary platform upon which to demonstrate their abilities and potential to a professional audience. Students will be responsible for planning and directing a major project as a team, with each student forming part of a production crew. Working with students from Film and Television Post-Production: Major Project, they will plan, shoot, edit and post-produce this project for completion and delivery in the manner of a professional production. Students will be expected to take on roles as crew members, as approved by the tutor, in order to develop their technical and teamwork skills.

Degree Essay (Film & Television Production)

Building upon work undertaken at level five, this module enables students to undertake a degree essay on a media-related topic relevant to their film and television practice. Although the content of the module will be student-led, a programme of lectures, workshops, tutorials and plenary sessions will support students to carry out appropriate research and apply academic protocols in the analysis and presentation of their material. Emphasis is given to the analysis of appropriate social, cultural, economic, historical and aesthetic issues and to the development of sustained and critically well-informed arguments that are germane to the student's chosen topic. During the course of the module students will undertake a series of formative and summative assignments to support the development of their final year degree essay .
Optional
Fees & funding
Fees 2017
UK/EU Students
Full time: £9,250 for the 2017 academic year
International Students
Full time: £11,850 for the 2017 academic year
*Tuition fees are charged annually. The fees quoted above are for the specified year(s) only. Fees may be higher in future years, for both new and continuing students. Please see the University's Fees and Finance Policy (and in particular the section headed "When tuition fees change"), for further information about when and by how much the University may increase its fees for future years.
View detailed information about tuition fees
Other financial support
Find out more about other financial support available to UK and EU students
Living costs / accommodation
The University of Hertfordshire offers a great choice of student accommodation, on campus or nearby in the local area, to suit every student budget.