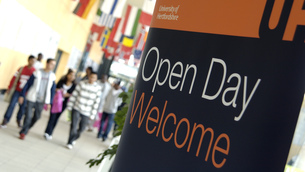 Visit us on the 6 June 2015 to find out what it's really like to study at the University of Hertfordshire...
Next undergraduate open day
Time:

09:00 - 15:00

Venue:

College Lane & de Havilland Campuses
book now
"
The mix of aerospace systems and engineering theory helped me secure a job at Selex ES
find out how
Innovative thinking for a sustainable future. Developed in conjunction with leading employers in the agricultural and food industries including BASF and Sainsbury's.
Are you interested in studying at the University of Hertfordshire? Request a prospectus to find out more about the University, the facilities we offer and the courses available.
Study at your own terms and your own pace. Choose from a variety of online degrees in Business, Computer Science and IT, Creative Arts, Education, Engineering and Health.
On Twitter
Z Twitter Feed is currently unavailable.
Follow us...