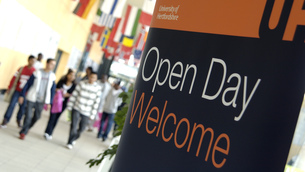 Visit us on Wednesday 15 March 2017 to find out what it's really like to study at the University of Hertfordshire...
Postgraduate open evening
Time:

17:00 - 19:30

Venue:

College Lane & de Havilland campuses
book now
We have a fantastic range of halls on campus so you're always close to the social and learning facilities you need.
On campus accommodation is extremely popular so to be in with the best chance of securing a room, you need to apply early.
apply now
Now ranked 21st in the UK, the University of Hertfordshire has achieved the best employment rate of graduates in the east of England region - outscoring the whole of the Russell Group including the Universities of Oxford and Cambridge.
Budding entrepreneurs win £23k in cash prizes at flare 2016
A private ambulance service that provides specially trained medical staff for events such as festivals has scooped the top prize at the University of Hertfordshire's annual business start-up awards, flare.
The Vice-Chancellor for the University of Hertfordshire, Professor Quintin McKellar, shares his thoughts on the recent EU Referendum and reassures EU staff and students of the University's position.