What to expect on the day of your Graduation Ceremony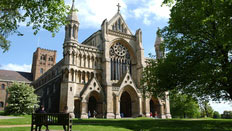 Graduation Ceremonies are held in the grand setting of St Albans Cathedral – a perfect location for this formal event where you will be able to celebrate your achievements together with fellow graduates, friends and family.
You will start the day in our Abbey Marquee, where you will collect tickets and robes and will have your photos taken. Make sure you give yourself enough time - there may be queues in the pre-ceremony venue.
Important information
What to bring

Please bring your confirmation email and photo ID (preferably your student card).

What to wear

Hiring a robe is not compulsory, but the majority of graduates choose to wear them as the Graduation Ceremony is a formal event.

We have a strict academic dress code and reserve the right to refuse anyone dressed inappropriately.

The walking routes on the day have uneven/slippery surfaces therefore you are advised to wear appropriate footwear for your safety.

Map and directions

St Albans Cathedral

Parking

St Albans is a very busy city centre and we would strongly recommend using public transport if possible.

Please be advised that car parks within the City Centre can become very congested during the Graduation weeks. Anyone travelling by car to the Graduation Ceremonies is recommended to arrive at least 2 hours prior to the start of their graduation to allow time for parking and other pre-graduation arrangements.

Parking near the Abbey: Unfortunately, there is no parking available near the Abbey, even for blue badge holders.

Drovers Way and Russell Ave Multi Storey car parks (AL3 5EB) are located just a short walk away from Abbey and have over 800 spaces. However, these car parks can become very busy, especially on Wednesdays and Saturdays, when St Albans Market runs.

Please do not park at Verulamium Park (Westminster Lodge) as this is solely for the leisure centre.

Pre-Ceremony venue

The Abbey Grounds Marquee is where ticket collection, robe hire and photography studios are located.

We recommend you allow plenty of time. Have a look at our suggested arrival times.

Entrance to the Abbey

Entrance to the Abbey is strictly by ticket only.

We do not have an overflow area for guests to watch the Ceremony.

There is strictly no food or drink allowed inside the Abbey.

Children

Children must be attended at all times.

Children must have a ticket to enter the Abbey. Only babes in arms (up to 1 year) will be allowed entry without a ticket. As the Ceremonies are formal in nature we do not recommend that they are suitable for those under the age of 7.

To avoid disturbing the enjoyment of others we would request that a responsible adult sits with children/babies near an exit as they easily become restless and bored. The University reserves the right to ask your guests to take any child/baby out of the ceremony venue for a short time so that the event can continue without disruption.

Pushchairs and car seats are not permitted inside the Abbey.

Luggage and pushchairs

Luggage, pushchairs and car seats are not permitted inside the Abbey as they pose a health and safety risk in the event of an evacuation. Unfortunately, there is nowhere for these items to be left, so we strongly advise that you do not bring them with you. If it is unavoidable, we suggest that you make suitable arrangements in advance.

Due to the security risk, luggage must not be left unattended.

Any pushchairs or car seats left unattended is done so at the owners risk and the university cannot accept any responsibility.

Order of proceedings

The Ceremony

The Ceremony venue doors open 45 minutes before the Ceremony commences.

Every person wishing to gain entry to the Ceremony must be holding their own ticket. Speak with an usher on the door before you enter if you have your guests' tickets as they will not be permitted entry without them.

Graduates must take a pre-assigned seat. Your guests have unallocated seating. You are not seated with your guests. If you have a young child they cannot sit with you at any time once you are in the Ceremony venue so please leave them under the care of your other (adult) guest.

Please ensure you are in you allocated seat more than 30 minutes before the ceremony starting time. A register of attendance will take place 30 minutes before the Ceremony commences. If you are absent at this time, your name will be crossed off the list and you will be assumed absent.

All mobile phones and other electrical devices must be switched off (not to silent as this interferes with the equipment used to record the Ceremonies).

At the beginning of the Ceremony, everyone will be asked to stand for the entry of the academic procession.

There will be an opening address by the Presiding Officer and, at some Ceremonies, a presentation of a Fellowship or Honorary Degree.

The presentation of degrees and diplomas will then commence. Awards are presented in hierarchical order within department. Students are presented in alphabetical order. Classifications are not read out.

Your name will be read out and you will walk across the stage to collect a scroll of congratulations from the Presiding Officer.

Remember to smile as your photo will be taken at this point! You will then return to your seat.

All students are filmed as they walk across the stage and appear in a livestreamed broadcast produced shortly after the Ceremony ends.

Please respect your fellow graduates by remaining silent throughout the Ceremony and applaud each student as they walk across the stage.

A closing address will be given by a senior member of the University.

A vote of thanks will be given by a selected student.

You are asked to stand for the exit of the Academic Procession. All graduates will be processed out directly behind them so you should pre-arrange a meeting point with your guests somewhere outside. This marks the end of the ceremony.

After the Ceremony

You should return with your guests to the Post-Ceremony Marquee to enjoy our drinks reception and then return your hired robe.

You can now watch your Graduation Ceremony online here!

Filming

The Ceremonies are livestreamed and will be available to download shortly after your ceremony. The links are available on the website. By attending the Ceremonies you and your guests are agreeing to appear in any recordings or photographs.

Name

During the Ceremony you will be called up to the stage in the name you requested the presenter read during your registration survey.

During registration, you do have the opportunity to tell us if you would like to be called something different. For example: "Mohammad Ibrahim Ahmed" would like to be read out as "Ibrahim Ahmed", or "Catherine Anne Grace" would like to be read out as "Cathy Grace". When completing this section of registration, please remember that graduation ceremonies are formal occasions, and ensure the name you give us is appropriate to the event.

Additionally, you also have the opportunity during registration to provide us with the correct pronunciation of your name by spelling it phonetically. For example: "Siobhan" - pronounced "Shiv-orn", or "Oluwasean" - pronounced "Olu-wa-shayen" ​

Your name will be published in the Graduation brochure. If you achieve a First Class or a Distinction this may be marked against your name. No other results will be published in the brochure. If you do not want your name in the brochure please contact us no later than 5 weeks before your Ceremony takes place.

Live Streaming

You can now watch your Graduation Ceremony online here!

Ceremonies will be livestreamed. This means friends and relatives who can't be with you on the day can still watch you walk across the stage.

Ceremonies can be watched with Youtube's autogenerated subtitles.

You can watch your ceremony here anytime and from October you will be able to download it.