Tickets for Graduation Ceremonies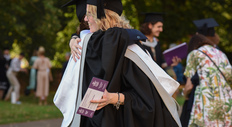 All guests, including children, must have a valid ticket.
How many tickets can I have?
When you register for the Ceremony you:
will receive a free graduate ticket for yourself
can purchase guaranteed guest tickets. The quantity you are able to purchase will be advised when you register.
can request extra tickets but they are not guaranteed. See below for further details.
Where and when can I pick up my tickets?

You should collect your tickets from the pre-ceremony venue on the day of your Ceremony no later than 1 hour prior to your Ceremony.

Tickets will not be sent to you by post.

Tickets will be released to the graduate only. You will need photo ID and your confirmation email as proof of your registration/purchase.

See on the day for further information about ticket collection.

Can I attend without a ticket?

Entrance to the ceremony venue is strictly by ticket only.

Registered Graduates will be issued with their own ticket containing their seat number which they must keep hold of to gain entry to the ceremony venue.

Guests must hold a valid ticket to attend the Ceremony.

Do children need a ticket?

Yes. Ceremonies are formal in nature and are not suitable for children under the age of 7. If you still wish to bring children you will need to purchase tickets for them, either from your allowance of guest tickets or from any extra tickets you receive from the ballot. Only a babe in arms (up to 1 year old) does not require a ticket.

Buggies and pushchairs are not permitted inside the ceremony venue.

Children cannot sit with the graduate. One of your adult guests will need to supervise the child at all times.

To avoid disturbing the enjoyment of others, we would request that the adult guest sits with the child/baby near an exit so that they can temporarily leave the venue if the youngster becomes restless.
Extra tickets
During registration, you will receive a graduate ticket for free and can purchase a number of guaranteed guest tickets. Tickets extra to this can be requested but are not guaranteed. Even if you are successful in the extra ticket ballot, you may not receive the full amount of tickets you requested. If purchased, they are non-refundable and non-transferable. You are strongly advised not to make arrangements for extra guests on the assumption you will receive extra tickets.
How do I apply for extra tickets?

You can request extra tickets when you register to attend the Ceremony. Please consider the amount carefully as this is your only opportunity to make a request.

How are extra tickets allocated?

Once registration for the Ceremony has closed, spare tickets will be allocated through a random ballot system. If you requested extra tickets on the registration form, your name will automatically be entered in the ballot.

When will I know if I have been successful in the ballot?

If you requested extra tickets on the registration form, you will receive an email once registration closes to notify you of the outcome of the ballot:

Successful applicants will have a limited period in which to make their purchase so you need to ensure that you check your email account regularly including your Spam and Junk folders.

Extra tickets are the same price as guaranteed guest tickets. If purchased extra tickets are non-refundable and non-returnable.

Can I get extra tickets on the day of my Ceremony?

No. We do not sell or redistribute any tickets on the day of the Ceremonies.

You are advised to only bring guests who have a ticket. Guests without tickets will not be able to enter the Ceremony venue.

Extra tickets for guests with mobility/disability requirements

We hope to be able to accommodate the needs of all guests. However, the turnaround time may be too tight to satisfy the more complex arrangements for extra guests with mobility/disability requirements.

You will be asked for disability/mobility requirements upon purchase of extra tickets and we will contact you shortly thereafter to discuss the arrangements. Due to the allocation of extra tickets all guests will need to purchase a ticket (eg carers and children).