Eligibility criteria for Graduation Ceremonies at the University of Hertfordshire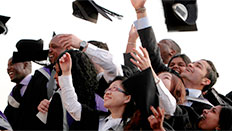 Find out which Ceremony you can attend by using our checklist below.
To be eligible to register for a Ceremony you must meet all of the criteria below. You must have:
1

. Do you have an eligible Exam Board date?

The date of your Exam Board determines which Graduation Ceremony you can attend. Use the table below to find your award level and where your Exam Board falls to determine the Ceremony you can attend.
Date range of eligible Exam Board dates (by award level) and corresponding Ceremony month
Awards presented
Exam Board date range
Eligible Ceremony
All awards
7 November 2019 to 31 July 2020
September 2020
1 August 2020 to 4 November 2020
December 2020
Not sure when your Exam Board meets?
Check with your School/Department, if you are unsure when your Exam Board meets.
2

. Is your award presented at the Ceremonies?

The following awards are presented at the Ceremonies.
Bachelors
Diplomas (except University Diploma)
Doctorates
Foundation Degree (FdSc Paramedic Science and FdSc Health Care Practice only)
Masters
Postgraduate Certificate in Education
Professional Graduate Certificate in Education
Students must have been taught by a University of Hertfordshire (Hatfield-based) academic.
3. Taking

an interim award?

If you have received notification regarding an interim award (i.e. not the final award on your programme of study) it is assumed that you will continue your studies. If, however, you do not wish to do this but instead receive the award noted by your Programme Board of Examiners, you must request this in writing. Doing so by a certain date may render you eligible to attend a Graduation Ceremony.
| Your written confirmation received by | Eligible Ceremony |
| --- | --- |
| 31 July 2020 | September 2020 |
| 4 November 2020 | December 2020 |
4

. Have you paid your academic debt?

You can only register to attend the Ceremony if you have paid your academic debt by the deadline dates for the September Ceremonies and December Ceremonies.

Contact Student Finance to arrange payment.