Photography at your Graduation Ceremonies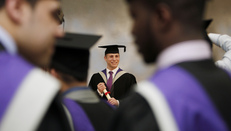 You can view photopack options prior to your ceremony from Tempest Photography.
How to order
You can order your photos on the day of your ceremony. Photographs will also be available to order after your ceremony from H Tempest Photography. Photographs will be posted directly from the photography company shortly after the Ceremonies.
Photography contact: customerservice@htempest.co.uk
Can I pre-order my photos?
No. However you can order them either on the day or post-Ceremony.
Where are the photo studios?
Photo studios are within the pre-Ceremony venue. Upon arrival, you will be directed to the next available studio.
When should I visit the photo studios?
You are advised to allow at least 1½ - 2 hours before your Ceremony commences. The studios will close 45 minutes before the Ceremony starts.
Limited studios will be open for a short period after each Ceremony. You are strongly advised to allow sufficient time to visit the studios prior to your Ceremony to avoid missing the opportunity.
Photos in the Ceremony
Every graduate will have their photograph taken whilst on stage. Graduates may purchase this if they wish.
Discreet photography is permitted within the Ceremony venue. We ask that you respect the view of other guests by not standing up or using a tripod during the Ceremony.