Public open evenings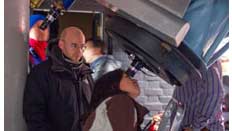 Public open evenings are held at Bayfordbury Observatory once a month from October to March.
Scheduled open evenings
Open evening dates will be announced in October.
What you can expect
During these events, you will:
See our 7 optical telescopes and, weather permitting, view interesting objects in the sky both looking through the telescopes and using powerful CCD imaging cameras.
Meet the researchers, post-graduate and undergraduate students from the University's Science and Technology Research Institute.
See expert demonstrations.
Attend talks on various astronomy topics.
Enjoy a tour around the sky in our planetarium.
View a demonstration of how our radio telescopes work.
These evenings are tailored specifically for the public so that adults, children and amateur astronomers alike can all enjoy the event.
Each open evening will have a theme centred around our particular topic or our local research.
If you have a group of 15 or more, please consider our private group visits which will allow us to tailor your visit to the experience of attendees.
Please note that the position and visibility of planets and the moon change throughout the year, and we may not be able to show you your favourites. This is unfortunately beyond our control. Only the very brightest planets, and a handful of galaxies and nebulae will show any detail or colour with an eyepiece, and therefore many of the telescopes will be equipped with sensitive CCD cameras to show you live images of targets that would otherwise be invisible to your eye.
Prices
Adults: £5
Concessions: £2 (students, children aged 5-12 and pensioners.)
Children under age 5 are free
Scheduled open evenings
30 Oct 2015 - Special guest: Stuart Clark
27 Nov 2015 - Planets: from Pluto to exoplanets
22 Jan 2015 - BBC Stargazing Event / Research Student's Jamboree
26 Feb 2015 - The Milky Way: The Galaxy we live in
18 Mar 2015 - Galaxies: from the Big Bang till today
Previous open evenings
March 2015 - BBC Stargazing Live
February 2015 - International Year of Light
January 2015
December 2014 - Comets and Asteroids
October 2014 - Halloween Special
March 2014 - Art and Astronomy
February 2014 - Galaxies special
January 2014 - BBC Stargazing Live
December 2013 - Student's Life
November 2013 - Life of Stars
October 2013 - Atmospheric Physics
March 2013 - Astrophotography & Comet Panstarrs
February 2013 - Extrasolar Planets
January 2013 - BBC stargazing live / MSc-PhD flash talks
December 2012 - Rockets and Space Exploration
November 2012 - Halloween astronomy
October 2012 - ESO's 50th birthday
March 2012 - Light Pollution
January 2012 - BBC Stargazing Special
December 2011 - Bayfordbury and black holes
November 2011 - Nebulae open night
March 2011 - Lab special
February 2011 - Radio and Rockets
January 2011 - Radio night
December 2010 - Exoplanets and Life
November 2010 - Cosmic Fireworks
March 2010 - Herschel Infrared Space Telescope
February 2010 - Herschel Infrared Space Telescope
November 2009 - Starry Messenger and Real Rockets