School Trips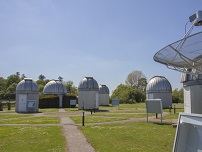 An experience at Bayfordbury Observatory is an exciting way to learn about space beyond the classroom.
We offer a variety of tailored visits to suit different Key Stages and areas of focus, aimed at deepening students' understanding of key Space concepts. Our range of sessions includes pre-designed options for the Year 5 Space topic and GCSE Astronomy subjects, and we are also happy to customise a session on a specific subject matter upon request.
During each visit, you will enjoy a two-hour program, including an interactive astronomy talk, a planetarium show, and a tour of our telescopes, with the possibility of using some of them if weather conditions allow. In daytime visits, there will be the potential to use our solar telescopes and sun spotters, as well as a tour of our general purpose telescopes. Evening visits will have the potential to use our optical telescopes to view the Moon, planets, or nebulae, depending on time of year and time in the Moon's cycle.
Timeslots
Daytime and evening timeslots are available. Please check our calendar before choosing a timeslot to ensure there are no other "school trip" or "group visit" events happening at your chosen date and time. Events labelled otherwise on the calendar will not have an impact on the availability of the timeslot. Please choose a start time between 10am and 2pm and your visit will last 2.5 hours. For example, a chosen start time of 10am will mean your visit ends at 12.30pm. Evening visits are also available, starting any time from 5pm until 7pm.
Pricing
Small group (up to 15 children) - £210
One class (16 to 30 children) - £350
Two classes (31 to 60 children) - £660
Three classes (61 to 90 children) - £990
For larger groups, please get in touch.
Make a booking
Please fill in the booking form or email events co-ordinator Mily Riley at e.riley@herts.ac.uk with any questions.