Telescopes
The astronomy side of Bayfordbury Observatory features 7 large permanently-mounted optical telescopes, solar telescopes, 4 radio telescopes, and a range of smaller instruments. The telescopes are housed inside high-quality, motorised Ash domes.
The 6 newest optical telescopes use a range of CMOS and CCD cameras and specialist filters to take detailed images of objects in space, from the nearby moon and planets, to nebulae and distance galaxies.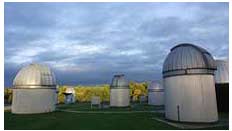 Three of these telescopes run robotically, so that they can run automatically throughout the night without intervention, allowing students and staff to get the very most out of the available hours of clear sky.
The older but larger 50cm optical telescope allows a simpler platform for students to be introduced to astronomy, where they can move the telescopes themselves and get a chance to look through the eyepiece.
Our radio telescopes allow detailed observations to be made of the hidden hydrogen that makes up our own galaxy, as well as high-energy radio sources inside and outside our galaxy. An advantage of radio telescopes is that they can work during cloudy weather and during the day as well as at night.
| Name | Type | Detector | Filters |
| --- | --- | --- | --- |
| 24" Telescope | Planewave CDK24 | ZWO ASI6200mm | BVR (Johnson), H-alpha, S-II, O-II |
| J.C.D. Marsh Telescope | 50cm f/13 Cassegrain | Eyepiece | - |
| R. Priddey Telescope | 40cm Meade LX200-ACF | Moravian Instruments G4-9000 | BVRI (Johnson) |
| J. Hough Telescope | 40cm Meade LX200-ACF | SBIG STL-6303E | BVRI (Johnson), H-alpha, S-II, O-II |
| C.R. Kitchin Telescope | 40cm Meade LX200GPS | SBIG STL-6303E | BVR (Johnson), H-alpha |
| I.K.M Nicolson Telescope | 40cm Meade LX200 | Moravian Instruments G4-9000 | |
| Video Telescope | 35cm Meade LX200R | Lumenera SKYnyx 2-1 | Red, Green, Blue, IR, UV |
| Vince Telescope | 16.5cm f/13.5 refractor | Eyepiece | - |
| Solar telescope array | 4x 70-102mm refractors | 4x ZWO ASI178MM | 2x H-alpha, Ca-k, Continuum |
| R.W. Forrest Telescope | 4.5m parabolic dish | 21cm/continuum | - |
| Interferometer | 3x 3m parabolic dishes | 21cm/continuum | - |
24" Telescope
A Planewave CDK24 with a 24-inch (60cm) diameter mirror.
The Planewave L-600 direct-drive mount allows high speed slews, and accurate pointing and tracking.
The ZWO ASI6200 61 megapixel back-illuminated CMOS allows very low levels of noise, high quantum efficiency, along with fast readout time and video capabilities.
Installed in September 2021
J.C.D. Marsh telescope
A 20-inch f/13 Cassegrain on a substantial English Cross-Axis mount.
It was the first telescope set up at the Observatory in 1970 and named after Lou Marsh, the first director of the Observatory.
Originally built as a 16-inch Cassegrain/Newtonian by Astronomical Equipment of Luton, and later modified by them in the mid-1980s to take the larger 20-inch mirror.
During the 1999 observatory renovation, a new dome was installed - the original dome was donated to Breckland Astronomical Society as part of the Great Ellingham Observatory.
Robert Priddey Telescope (RPT)
This is the Observatory's newest telescope, installed in 2013, is a 16-inch Meade LX200-ACF identical to the BMT, and replaces an old manual Celestron C-14 from the late 1970s.
It is equipped with an Moravian Instruments G4-9000 full frame (36mm) camera, with BVRI filters.
James Hough Telescope (JHT)
This is a 16-inch Meade LX200-ACF first installed in 2008, replacing the old Brinton Reflector.
In 2013 it was moved onto a new robotic Paramount ME mount.
It is equipped with an SBIG STL-6303E camera with an 8-position filter wheel, holding BVRI photometric, H-alpha, S-II and O-III filters.
Chris Kitchin Telescope (CKT)
In 2005 a new 16-inch Meade LX200GPS was purchased for the Observatory by the East of England Science Learning Centre, and was installed in the dome formerly housing the Vince Telescope.
During late 2011 work was started on the CKT to convert it to robotic operation, and it became the first of 5 telescopes able to make automated observations of the night sky without anyone needing to be present.
It is equipped with an SBIG STL-6303E camera with a 5-position filter wheel, holding BVR photometric and H-alpha filters.
Solar telescopes
4 telescopes on a single mount to image the sun using different filters.
A widefield camera with occulting disk views near-sun atmosheric effects (haloes/sun dogs).
Three 70mm telescopes view the entire sun with Hydrogen, Calcium and Continuum filters.
A larger 102mm telescope views higher resolution details.
R.W. Forrest Radio Telescope
The Forrest Radio Telescope is a 4.5m, parabolic dish with a state-of-the-art 21cm (1.4GHz) Hydrogen line receiver.
The receiver allows spectrum or continuum readings to be made.
The telescope was built during the 1999 renovation to replace an older concrete radio dish.
Mounted on a custom 'Alt-Az' mount which is controlled from the Patrick Moore Building.
Radio interferometer
In December 2011 construction began on a 3-dish radio interferometer.
The dishes are 3m in diameter and have a maximum baseline of 115m.
Receivers and a new positioning system for the dishes are currently being set up.
Video Telescope
The Video Telescope is a 14-inch Meade LX200R installed in 2007.
It specialises in fast frame rate, high resolution video imaging of solar system objects: the Sun, Moon and planets.
It has 7 filters to allow observations to be made from the near-infrared (great for Mars) through red, green and blue to ultraviolet (for viewing cloud bands on Venus).
Iain Nicolson Telescope (INT)
In 1999 a telescope identical to the DAT was installed and later named after astronomy lecturer Dr Iain Nicolson.
Piggy-backed on top is a 102mm apochromatic refractor with a Moravian G4-9000 CCD for widefield imaging of larger targets.
Vince telescope
A 6.5-inch f/13.5 achromatic refracting telescope commissioned in 1934 by Albert Vince.
It uses a lens from an earlier telescope produced by the famous German opticians, Merz, in 1860, and is mounted in a brass cell manufactured by Hans Gordon of Berlin in around 1900.
The son of the original owner had loaned the instrument to the Chelmsford Astronomical Society in the late 1970s and while there was extensively restored by the chairman, Mr Weston.
The society later disbanded and the telescope sat in a garage for some time until it was donated to the observatory at Bayfordbury in 1988.
During the 1999 renovation a dedicated 4m dome was built to house the telescope on its original half-ton mount, but in 2005 the newer Chris Kitchin Telescope was installed in this dome and the Vince telescope mounted on the 20-inch Marsh Telescope where it is today.
The original mount was relocated to Ireland in 2011 to hold a Wray 6-inch f/15 refractor dating from the 1890s.

Historical Telescopes

David Axon Telescope

In 1995 the Observatory installed its first 'go-to' telescope - a 16-inch Meade LX200 EMC that could automatically find thousands of objects in the night sky using a computerised handset, one of the first of its kind in the country.
Henry Brinton Telescope
317mm Newtonian reflector
Built by George Calver in 1889
Donated to the Hatfield Polytechnic Observatory in 1975 by Henry Brinton, at the suggested of Patrick Moore.
In 2008 it was passed on to Slindon College in Arundel