Contact the Observatory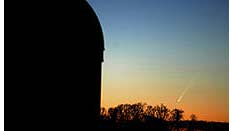 Please do not hesitate to contact us if you have any enquiries about Bayfordbury Observatory.
Our address
Bayfordbury Observatory
University of Hertfordshire
Bayfordbury
Hertford
Hertfordshire
SG13 8LD
Please do not send group visit payments to this address
Get in touch with us
You can see if your question is answered in our list of FAQs.
Bookings for private visits and public open evenings will open in October 2018.
Please note that many of us are often out of the office. If you cannot get a reply via phone please send an email and we will get back to you. Technical staff are unable to help with group visit and open evening bookings.
| Name | Telephone | Email | Role |
| --- | --- | --- | --- |
| David Campbell | +44 (0)1707 285837 | d.a.campbell2@herts.ac.uk | Principal Technical Officer |
| Dr. Samantha Rolfe | +44 (0)1707 285837 | s.rolfe2@herts.ac.uk | Principal Technical Officer |
| TBC | | - | Group Visit coordinator |
| TBC | | - | Open Evening coordinator |
| Prof. Sean Ryan | +44 (0)1707 286068 | s.g.ryan@herts.ac.uk | Observatory Director |
| Dr. Mark Gallaway | +44 (0)1707 281074 | m.gallaway@herts.ac.uk | Ogden Fellow. Outreach, planetarium, education and media contact |