Contact the Observatory
Please do not hesitate to contact us if you have any enquiries about Bayfordbury Observatory.
Write to us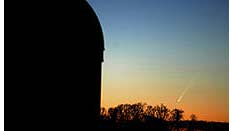 Bayfordbury Observatory
University of Hertfordshire
Lower Hatfield Road
Bayfordbury
Hertford, Hertfordshire
SG13 8LD
Get in touch with us
You can see if your question is answered in our list of FAQs.
Please note that many of us are often out of the office. If you cannot get a reply via phone please send an email and we will get back to you.
Find us on Social Media
We regularly update our Facebook, Instagram and Twitter accounts, follow us for updates on Public Open Evenings, astronomical events and see what we are working on at the Observatory too.
You may have found us through GoStargazing, which lists dark sky sites and observatories near you.