Birthday Parties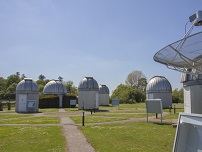 Celebrate your birthday at Bayfordbury Observatory.
Try something different and celebrate among the stars.
What's included?
a planetarium show.
a tour of our telescopes including the possibility of using them (weather permitting).
choice of a talk or straw rocket making activity (activity recommended for under 8s).
small gift for birthday guest.
Pricing
£15 per guest - minimum of 15 guests, maximum of 30 guests.
£30 optional extra 30 minutes to set out own food and decorations. Food can be eaten during the talk/before the activity.
Time slot options
Start times indicated below, a party will last approximately 2 hours.
If the option to bring own food is chosen, an additional 30 minutes will be added.
10 am to 12 pm (12.30 pm with food option).
1 pm to 3 pm (3.30 pm with food option).
4 pm to 6 pm (6.30 pm with food option).
7 pm to 9 pm (9.30 pm with food option).
Booking
Please use the booking form to make a request.
For enquiries or to ask any questions, please email our Bayfordbury Education Officer lead, Mily Riley, at e.riley@herts.ac.uk.