Group Visits
Booking is open. Group visits are available year round. We offer private group visits to the Observatory for large private and community groups of up to 40 people. Depending on the weather, between October and March, we will attempt to view targets in the night sky. Between April to September, we will attempt use our solar telescopes to reveal features on the Sun's surface.
School groups
Please see our School trips page for information relating to school visits to Bayfordbury.
Furthermore, we can bring our Planetarium into schools! If you would like to find out more, visit our Cosmos in the Classroom page.
Girlguiding and Scouts
The University of Hertfordshire Observatory at Bayfordbury is happy to invite intrepid young astronomers to come along with their Brown Owl or Scout Leader to demonstrate their skills and knowledge to earn their respective badges in the field.
Community groups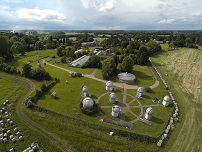 If you are interested in a particular aspect of astronomy, we can theme your visit to accommodate this.
What is included?
These evenings are tailored to the abilities and experience of the visiting group where possible, and can be themed to the reason for their visit with sufficient notice (at least 1 month).
A group visit will include:
a talk from one of our astronomy students
a tour of the sky in our Planetarium
a peek through the telescopes at Bayfordbury (weather permitting)
A member of staff at the Observatory will contact you in advance of your visit to confirm all the details.
If the weather is unfavourable, the group will still visit the telescopes and if at all possible, a visible object will be viewed.
Timeslots
Daytime and evening timeslots are available. Please check our calendar before choosing a timeslot to ensure there are no other non-astronomical events happening at your chosen date and time. Astronomical events include comets and meteor showers, which will not affect your event. Anything else will.
Daytime visits may begin at any time between 10am and 2.30pm and will last 2 hours, for example, a visit beginning at 10am will finish at 12pm. Evening visits may begin at any time between 5pm and 7.30pm and will last 2 hours.
Ticket Prices
Entry to the Observatory is £13 per person (minimum number of tickets to be purchased is 15 to cover costs, but groups can be smaller)
You can use our calendar to find an available evening, and make a request for a private visit.
Once availability is confirmed you will be sent a link to our secure payment page to complete your booking.
You will then receive a confirmation email and a reference number.
Please note: a non-refundable deposit of £104 (8 tickets) is to be paid at least 2 weeks before the date of your visit.
If you have a group smaller than 15, you may be better suited booking onto a Community Visit.
How to request a visit
Fill in our Group Visit booking form. Please view our calendar for available dates and times
For general enquiries or to discuss specific details of a potential group visit prior to requesting, please contact Mily Riley on e.riley@herts.ac.uk.
During the summer, group bookings cannot be made for the following winter. This is a result of undergraduate practicals not being scheduled until September. Booking options will be made available as soon as possible.