Group visits
We offer private visits to the Observatory for schools and community groups of between 15 and 40 people, during the Autumn and Spring terms.
School groups
If there is a particular project or aspect of astronomy the class has been working on, we can theme your visit to accommodate this.
Brownies and Scouts
The University of Hertfordshire Observatory at Bayfordbury is happy to invite intrepid young astronomers to come along with their Brown Owl or Scout Leader to demonstrate their skills and knowledge to earn their respective badges in the field.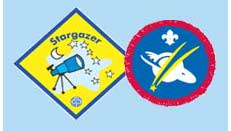 Brownies Stargazer Badge
To obtain the Stargazer badge, you must:
With an adult you know, go outside when it is dark and do the following.

Look at the stars.
Point out the Plough and use it to find the North Star.
Point out two other constellations.
Look at the stars through a telescope or binoculars.

Know what are good conditions for stargazing.
Tell other Brownies the stories behind the two constellations you pointed out in clause 1
Visit a planetarium, observatory, museum or website with an astronomy section. Tell the tester four things you found out.
Make a mobile or draw a picture to show the phases of our moon.
Name the planets in our solar system. Find out some facts about four of them and use this to make a game or puzzle for other Brownies.
Explain why sailors in ancient times needed to know about the stars.
Scouts Astronomy Activity Badge
How to earn your badge
Show what you know about the night sky and why the pattern of stars
changes, night by night, throughout the year.
Learn the meaning of the terms celestial, equator, poles, circumpolar and zodiac.
Build a model of the Solar System using everyday materials found in the home, such as different size fruit or sports balls. Use an outside area to scale the Solar System.
Explain how the moon affects the tides.
Build a telescope from two cardboard tubes or two A4 pieces of black card and lenses.
Observe three constellations on a clear night and record what you saw.
Read a star map using a compass and red light. Compare the differences between using a star map and a normal map.
Learn how to identify a satellite. How do you tell it apart from an aeroplane, star, planet or a meteor? Then complete these activities:

identify a satellite to observe
choose a clear night and use a clock and a compass to help you observe the satellite
plan an evening with your group and teach others how to observe the satellite.
What is included?
These evenings are tailored to the abilities and experience of the students where possible, and can be themed to the reason for their visit with sufficient notice (at least 1 month), whether it is for educational purposes, or just for fun.
A group visit will include:
a talk from one of our astronomy students
a tour of the sky in our Planetarium
a peek through the telescopes at Bayfordbury (weather permitting)
Visits are typically around 2 hours in length. There are a variety of arrival times available. A member of staff at the Observatory will contact you a week before your visit to confirm all the details.
Prices
Entry to the Observatory is £9 per person
You can use our calendar to find an available evening, and make a request for a private visit.
Once availability is confirmed you will be sent a link to our secure payment page to complete your booking
You will then receive a confirmation email and a reference number.
How to request a visit
Please visit our calendar to find a free date