Visit Bayfordbury Observatory
Open evenings and group visits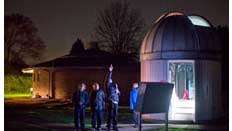 Bayfordbury Observatory gives the opportunity for private groups, schools, Brownies/Scouts and the general public to visit us and learn more about the universe and the work taking place here.
Browse the pages below to find out more:
Booking a visit
Please note: Group visits are only available from October until March when the nights are long and the hours more sociable. During the summer, group bookings can not be made for the following winter. This is a result of undergraduate practicals not being scheduled until September.
If you wish to be notified when we will be ready for booking open evenings, you can email Dr. Marc Sarzi, the organiser, with the subject "Bayfordbury Open Night".
---
Official ESO outreach partner organisation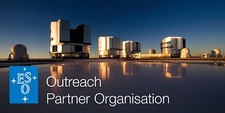 Bayfordbury Observatory is an official ESO (European Space Organization) outreach partner organisation.
Dark Sky Discovery partner

The University of Hertfordshire is the lead partner for the Dark Sky Discovery project in the East of England.
Consortium of Universities for Goonhilly Astronomy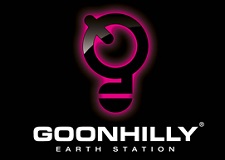 The University of Hertfordshire is part of the Consortium of Universities for Goonhilly Astronomy, to refurbish the Goonhilly Satellite Earth Station for radio astronomy and public outreach.
---
Work Experience
The Observatory offers a very limited number of work experience placements each year. We welcome applications from students studying physics at GCSE or A level.
In the first instance you should forward a CV to Mark Gallaway, this should be done between the 10 January and 10 February each year. Applications outside of this time period may not be considered.
Please note that the Observatory is not accessible via public transport and that work hours may be unsociable.
Risk Assessment for visitors to Bayfordbury
Download our visitor risk assessment form.