MA Art Therapy
About the course
MA Art Therapy
The MA Art Therapy is approved by The Health Care Professions Council (HCPC) and is situated in the vibrant School of Creative Arts. The programme offers opportunities for students to develop their artistic identities in tandem with receiving a through training in the skills and knowledge required for safe therapeutic practice.
Students attend placements throughout the course and develop their professional skills through clinical supervision, reflective practice groups and by articulating their practice in writing, research and multi-media presentations. Focusing on the public sector, placements range from adult and child mental health, rehabilitation, palliative care, learning disabilities, forensic settings and schools.
The programme guides students toward achieving employment in health care, education and/or voluntary organisations.
The programme can be studied in two modes - full-time for 2 years or part-time for 3 years. A clear indication of the mode chosen should be stated on application forms.
Why choose this course?
The aim of the MA Art Therapy is to train art therapists for employment in the public sector. This includes theoretical and practical knowledge, understanding and skills relevant to a range of client groups and settings. You are offered a broad theoretical foundation in the key principles of psychodynamic and humanistic psychotherapy, neuropsychology and other evidence based practice in relation to current art therapy theory and research. The programme area also offers a range of pre and post qualification opportunities such as the University Certificate Arts Therapies and Wellbeing Foundation, Introductory and Continuing Professional Development (CPD) short courses and research opportunities up to PhD.
The MA Art Therapy at UH places particular emphasis on the relationship art therapy has with broader visual art culture. Experiential learning is key to the training, with time and space given to the continuing development of the students' creative practices.
The MA Art Therapy course has links with the Faculties of Public Health, Health and Human Sciences and European organisations such as ECArTE. The University is within easy reach of London by rail and road.
The core staff team have an excellent reputation in terms of teaching quality and practice and research in their fields. The programme also employs a range of professionals with clinical and research expertise with a range of client groups.
You have access to a state of the art Learning Resources Centre which contains a wealth of material on related disciplines, maintained by specialist staff who provide support and advice when needed.
Professional Accreditations
MA Art Therapy
Careers
The qualification leads to an award that is recognised for professional registration purposes by the Health and Care Professions Council (HCPC).
Career opportunities vary from work in the NHS, social services, the voluntary sector and increasingly in main stream education. Art Therapists frequently work on a sessional basis or part time in a range of settings. Students receive lectures and workshops on entrepreneurial skills such as fundraising, setting up new services and how to market themselves post-qualification.
Teaching methods
The learning experience offers clinical, theoretical and artistic opportunities and is comprised of the following areas of study:
Theory and Research
Lectures and seminars focus on psychodynamic principles, current practice and research. They provide the theoretical framework for understanding the context in which art therapy is currently practiced and researched. Excellent tutorial support is offered.
Experiential Groups
A range of workshops and groups explore group processes and develop the student's understanding of effective, creative and safe practice.
Studio practice is a key aspect of the programme. Students can access a number of facilities within the School such as ceramics and photography studios as well as the dedicated art therapy spaces.
Clinical Placement and Supervision
Students undertake 120 days of clinical placement on the course. Supervision is a key component of this. Clinical supervision is provided on the placement whilst reflective practice groups are held by experienced clinical supervisors at the university. The programme holds the view that a range of clinical experience is necessary whilst studying in order to maximise the student's employment prospects.​
Megan Tjasink: Lecturer/Admissions Tutor
Introductory Reading List
Campbell, J. et al. (1999) Art Therapy Race and Culture. London: Jessica Kingsley Publishers.
Case, C. & Dalley, T. (2014) Handbook of Art Therapy. London and New York: Routledge.
Hogan, S. (2016) Art Therapy Theories: A Critical Introduction, London and New York: Routledge. Taylor and Francis.
King, J.L. (2016) Art Therapy, Trauma, and Neuroscience: Theoretical and Practical Perspectives. New York: Routledge.
Meyerowitz-Katz, J and Reddick, D. (eds.) (2017) Art Therapy in the Early Years. Therapeutic interventions with infants, toddlers and their families. London and New York: Routledge. Taylor and Francis.
Waller, D.E. (2014) Becoming a Profession: History of Art Therapy 1940‑1982 (Psychology Revivals). London and New York: Routledge.
Waller D.E. (2014) Group Interactive Art Therapy. London and New York: Routledge.
INTRODUCTION to Art Therapy: (one and two-day courses) Visit this link for more information.
Arts Therapies and Wellbeing FOUNDATION:
Mondays 6pm-8pm Sept-May, visit this link for more information.
Structure
Level 7
Core Modules
Art Therapy Practice Part 2 - 60 Credits
Art Therapy Practice 1 - 60 Credits
Discourse and Reflection: Art Therapy - 30 Credits
Experiential Training 1 - 15 Credits
Experiential Training 2 - 15 Credits
Experiential Training 3 - 30 Credits
Creative Economies - 15 Credits
Research and Enquiry - 15 Credits
Optional
Research and Enquiry (Online) - 15 Credits
Creative Economies (Online) - 15 Credits
Fees & funding
Fees 2018
UK/EU Students
Full time
£6500 for the 2018/2019 academic year
Part time
£820 per 15 credits for the 2018/2019 academic year
*Tuition fees are charged annually. The fees quoted above are for the specified year(s) only. Fees may be higher in future years, for both new and continuing students. Please see the University's Fees and Finance Policy (and in particular the section headed "When tuition fees change"), for further information about when and by how much the University may increase its fees for future years.
View detailed information about tuition fees
Other financial support
Find out more about other financial support available to UK and EU students
Living costs / accommodation
The University of Hertfordshire offers a great choice of student accommodation, on campus or nearby in the local area, to suit every student budget.
Entry requirements...
The programme welcomes students from a variety of backgrounds and cultures.
All applicants will require the following on entry, please see Additional Application Information below for full details
Maturity, life experience and psychological mindedness are regarded as essential.
Applicants should have an Honours Degree or its equivalent in Visual Arts, the Humanities, Education or a related field.
Many undergraduates follow combined subject degree courses - such as art/psychology or art/sociology. Examples of other approved subjects could be psychology, social science, psychiatric nursing and social anthropology. Such non-art graduates must demonstrate a long-standing commitment to and ability to practice in some form of visual art.
At the point of application at least 1,000 hours of relevant work experience in mental health, special education or another related field is required. Paid or voluntary work is acceptable and both need to be consistent over a period of time.
All applicants must include a link to a portfolio of personal artwork with their application.
An Extended Personal Statement/Essay and two acceptable references.
Special Entry:
We recognise that there may be some very able candidates who have not have completed an undergraduate degree due to personal or professional circumstances. Therefore, a small number of `special-entry' places are allocated each year to non-graduates. The academic demands of the course are such that a reasonable level of further education beyond secondary level is required. Each special-entry application is assessed on individual merit.

Non-graduates or those with an alternative degree to Art and Design are expected to have considerable prior relevant work experience and meet the above portfolio requirements.
Additional Application Information:
To allow us to assess your application fully, we also require the following documents at point of application:
Completed Work Experience Form
All candidates will be expected to provide evidence of a minimum of 1000 hours of relevant work experience in order to be eligible for the course. These hours need to have been accrued by the date of application and do not include hours within the period of acceptance and the start of the academic year. This work may be paid employment and/or voluntary work, gained in the UK or abroad. The work should provide experience of working with the kinds of vulnerable and special needs clients a student may encounter on clinical placement during the MA training. The work should take place in health, education or community settings.
Work experience must be gained outside the confines of an applicant's own domestic circumstances, so tasks such as caring for children, friends or relatives, although obviously important as life experience, do not qualify for the purposes of entry requirements. Applicants should bear in mind that the purpose of relevant work experience is to give them some insight into the problems involved in working with people who are undergoing some form of emotional or psychological crisis or stress. With this in mind, direct work with such clients should be the main purpose of the applicant's employment and not merely incidental to employment in another capacity. Teaching experience should include a substantial amount of specific special needs work and can include teaching or classroom assistant experience.
The portfolio should contain a range of your work including:
A selection of images of significant works/designs (maximum of 5)
Images of sketchbook work (maximum of 5)
Images that show your development process (maximum of 5)
The portfolio should be clearly annotated with an indication of media used and size. Please visit our website for further information and guidance on how you may present your Portfolio.
Further to the portfolio guidance on the website please note that we will be looking for evidence of the development of your art making practice over a number of years, your emotional engagement with your work and your capacity for personal expression through art. Please choose artwork that represents the diversity of your practice. In the interview, you will be asked to discuss one or two or selected pieces.
Extended Personal Statement/Essay:
You are required to submit an extended personal statement that addresses the following three questions:
1. What is Art Therapy?
2. How has my creative process informed my wish to study Art Therapy?
3. Why is this profession a good fit for me?
The essay must be a maximum of 650 words in length, excluding the bibliography. Please draw on relevant UK Art Therapy literature and use at least one image (this can be your own or drawn from contemporary visual culture).
Degree Certificate & Transcript
Applicants should have an Honours Degree or its equivalent in Visual Arts, the Humanities, Education or a related field.
Two references (1 work and 1 academic):
Please ask your referees to send their references to admppc@herts.ac.uk for Home/EU or admint@herts.ac.uk for International students.

Additional Information for International Students Only:

As above with the following exceptions:
The Extended Personal Statement/Essay should be submitted separately as follows:
A 500 word essay titled 'What is Art therapy?' referenced with relevant UK literature on Art Therapy. Use the Harvard referencing system and also please include a bibliography.
A concise personal statement (250 words) that addresses the following four points:
Why you wish to study MA Art Therapy
Why you wish to study at UH
Why you wish to study in the UK
What are your career goals and how does this course help you achieve them
After your initial application has been assessed we will contact you to arrange a VSee or Skype interview if you are not based in the UK.

If English is not your first language you will need a minimum IELTS score of 6.5.
If you do not have the required level of English for entry, our academic English courses can help you to achieve this level.
Selection and Interview: Interviews are held from December onwards and continue until all places are filled – usually no later than the end of May. Interviews are offered as application forms and additional application information is received and places are allocated on a first come/first served basis. Results of interviews are usually provided within ten days. International students can be interviewed by Skype or VSee if they are unable to attend for a personal interview.
Following the receipt of the application, applicants may be selected to attend an interview. If an applicant is not selected for interview, it is usually because basic entry requirements are lacking and some advice may be given as to how these may be achieved so that an applicant may re-apply.
The interview lasts for approximately two and a half hours. It starts with a group Q&A session and discussion followed by a ten minute individual interview with each of the three interview panel members (two tutors and one service user). Skype /VSee interviews are usually conducted by the MA Art Therapy admissions tutor and last for 30 minutes.
If an applicant is not selected at interview, some advice may be given as to how future applications may be strengthened by additional education and/or work experience. However, staffing resources do not allow for the provision of detailed individual feedback and correspondence regarding the reasons for unsuccessful application cannot be entered into.
If a place is offered, applicants will be asked to complete an application form for an enhanced disclosure certificate from the Disclosure and Barring Service (DBS). Applicants may also be asked for further information concerning any convictions, cautions or other relevant information that it reveals, as well as references from the probation service or other organizations.
How to apply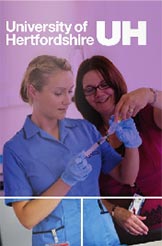 Download the Prospectus