Sport, health and exercise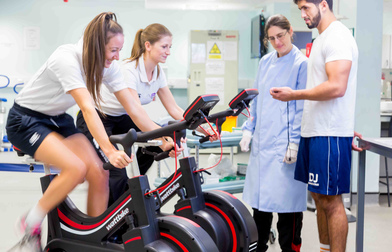 The Sport, Health and Exercise Research Group carries out innovative research in the following 6 areas:
Sport, Health and Exercise took its first cohort of 20 sport and exercise science students in 1999, followed in 2000 with the first sports therapy cohort, and in 2004 with the sports studies programme.
The subject group of Sport Health and Exercise Sciences currently has 450 undergraduate students studying sport and exercise science, sports therapy or sports studies. We currently have eleven postgraduate students studying for Master's or PhDs.
Our first Master's by Research students began in 2004 and many of them have gone on to secure jobs in elite sport, such as Dan Howells, who works with England Rugby, recently travelling with them when they achieved the silver medal at the Rio Olympics, and Matthew Monte-Columbo who was head strength coach at West Ham United FC until 2014 having held a similar role at Watford F.C.
Current research projects
Some current postgraduate research projects supervised by Sport, Health and Exercise staff:
An assessment of nutritional intake and metabolic characteristics within UK track-and-field athletes.
Inflammation and recovery after high-intensity, intermittent exercise: effect of antioxidant nutrition.
A three-dimensional biomechanical analysis of a simulated ankle sprain during static and dynamic activity.
The role of physical activity and exercise during mental illness and personal recovery.
A detailed exploration of the stressors and coping strategies of the athletics coach.
The effects and mechanisms of action of exercise and an anthocyanin-rich dietary supplement on factors associated with Metabolic Syndrome.
Developing cooling strategies for enhancing performance in able bodied and wheelchair fencing.
Women's leadership of sport in the UK and Africa.
The mental health of elite athletes in the United Kingdom.
The Head of Centre is Dr Lindsay Bottoms.