BA (Hons) Psychology in Education
Entry requirements

Clearing entry requirements

We're committed to welcoming students with a wide range of qualifications and levels of experience. Over Clearing, we'll be taking a flexible approach so if you don't have the advertised grades, you can submit a clearing application and we'll review and consider your application on an individual basis.

| UCAS points | A Level | BTEC | Access Course Tariff | IB Requirement |
| --- | --- | --- | --- | --- |
| 104 - 112 | BCC - BBC | MMM - DMM | An overall merit profile in 45 credits at Level 3. | 104 - 112 points |

Additional requirements

All students from non-majority English speaking countries require proof of English language proficiency, equivalent to an overall IELTS score of 6.0 with a minimum of 5.5 in each band.

If you do not have the required IELTS or equivalent for direct entry on to your degree programme, our Pre-sessional English and International Foundation courses can help you to achieve this level.

For more details on the University of Hertfordshire's entry requirements, please visit our Undergraduate Entry Requirements page.

Find out more about International Entry Requirements.

| UCAS points | A Level | BTEC | Access Course Tariff | IB Requirement |
| --- | --- | --- | --- | --- |
| 112 - 120 | BBC - BBB | DMM - DDM | An overall merit profile in 45 credits at Level 3 | 112 - 120 points |

Additional requirements

All students from non-majority English speaking countries require proof of English language proficiency, equivalent to an overall IELTS score of 6.0 with a minimum of 5.5 in each band.

If you do not have the required IELTS or equivalent for direct entry on to your degree programme, our Pre-sessional English and International Foundation courses can help you to achieve this level.

For more details on the University of Hertfordshire's entry requirements, please visit our Undergraduate Entry Requirements page.

Find out more about International Entry Requirements.

Sign up for more information

Get access to personalised content, tailored towards your interests:

Information on your favourite courses
Tips to help you through the application process
Blogs, vlogs and advice from current students

Why choose this course?

We are ranked 11th for Education in the UK
Final year placement in educational setting
Facilities include an observation room

Education at Hertfordshire is ranked 13th in the UK in the Guardian 2022 league table .
The top University in the 2021 NSS for teacher training and in the top 10 providers for employability by the School of Education
Top of university provider in overall satisfaction for undergraduate primary ITE provision (NSS 95.1%)
Gain the required skills and knowledge to meet the requirements of today's psychological needs allowing you to thrive in your future career
Access to first-class teaching facilities and resources, which have been designed to help you with your studies
You will be taught by a skilled group of research informed academics, who bring together years of extensive knowledge and experience from a range of educational backgrounds. They will challenge, support and help you to develop your expertise in psychology.
You could be eligible for bursary or grant if you are a full-time home student starting your course in September 2022. Full eligibility criteria and further details.
Broaden your understanding of the role psychology plays in shaping policy our lives, society, education and work environments

Careers and employability

91% of UH Education graduates are in employment or further study 15 months after graduating from their 1st degree (Graduate Outcomes Survey 2018 -2019). In addition to this, the average salary of our Education graduates 15 months after graduation is £21,000 (Graduate Outcomes Survey 2017- 2018).

Many of our graduates have found work in the public sector and private sector, in roles such as Wellbeing Practitioner, Academic Coach, Support Worker, Education Consultant, Human Resources Officer, Market or Social Researcher and Policy Officer.

After further study, graduates have also gone on to roles such as Dance Movement Psychotherapist, Art Therapist, Play Therapist, Psychotherapist/Counsellor and Teacher.

Our aim is not only to teach you the principles of psychology theory but how to use those theories in practical work environments. This is the reason why so many of our students thrive in employment after graduation.

What's the course about?

This course will offer you insights into a whole range of perspectives. It will challenge your thinking. It will give you a deeper understanding of yourself and others. This course will enable you to apply psychology to education and learning explored through lively, real life scenarios using a practical approach. You have the option to gain a BA Hons or a BSc Hons in Psychology in Education.

You will also have the opportunity to study abroad, which will give you valuable experience and enhance your career prospects.

In the first year, you will learn about what it means to think psychologically, and to engage in the psychological imagination. To achieve this, all students study foundation modules, which introduce learners to everyday psychology - how we think about ourselves, other people and the social contexts within which we construct our lives. These introductory modules are designed to give you a good grounding of the fascinating and amazingly broad field of psychology. Through these modules, you will become aware of the personal constructs that frame our experiences, and the multiple ways of understanding our fellow human beings. So, the first year is simply an invitation to begin using a psychological lens to understand ourselves, other people and the social world.

In the second year, you will build upon the key ideas from the first year. We will delve more closely into recent advances in psychology regarding how our thinking, feelings and actions are shaped by our social contexts, personal life goals and motivations, and the workings of our brain. The modules are intended to enhance your knowledge of psychology, as well as develop your research skills, particularly in educational settings. Thus, the second year is geared towards becoming critical enquirers of the human mind and behaviour and nurturing essential skills for careers in psychology.

In the final year, you will study modules which take an interactive, lively and thought-provoking look at the essential skills and possibilities of careers in psychology. Importantly, students will specialise and conduct research in particular areas in psychology, which interest them. The projects you will complete, will provide you with useful opportunities to apply, reflect and evaluate theories in practical educational settings. So, the final year seeks to develop you into competent users of psychological knowledge and prepare you for the world of work.

Your main campus is College Lane

This is where the creative arts, science and health-related subjects are based. This means you'll share the campus with future nurses, scientists, artists and more. You can use the common rooms to relax with friends, work out in the 24-hour gym or have a drink in our on-campus pub or cafes. We also have restaurants for you to eat in or grab something on the go. Our Learning Resources Centres are open 24/7, which means you can study whenever suits you best. Want to pop over to the other campus? You can take the free shuttle bus or walk there in just 15 minutes.)

What will I study?

You will be studying four 15 credit modules in each semester (this may vary between double modules) and your contact time varies between modules and will include a balance of lectures, seminars and tutorials. In addition, as part of your study time, you will be collaborating with your peers on individual and group tasks. Each student has a personal tutor who will provide support throughout the programme.

The University's 'online learning environment' means you can access all your course resources, literature, and timetables from anywhere in the world.

Assessment is 100% coursework. The style of coursework can vary from presentations to reports or essays depending on the taught topics.

Level 4

Level 5

Level 6

What if I need support?

You'll get a personal tutor to guide you through your course, all the way to graduation.

You might also want or need extra support during your time with us. Rest assured, no matter what you study, we've got you covered. For help with study skills, including referencing, essay writing and presentations, you'll have access to our academic support services. You can attend workshops, 1-to-1 sessions and online tutorials. Both our LRCs run drop-in study skills sessions. And the best thing is, it's all free.

Within the School of Education, we have a dedicated Student Success and Engagement Team who are there to support you with your welfare and academic writing support. There are also opportunities to have a peer mentor, who will be a more experienced student specially trained to provide support.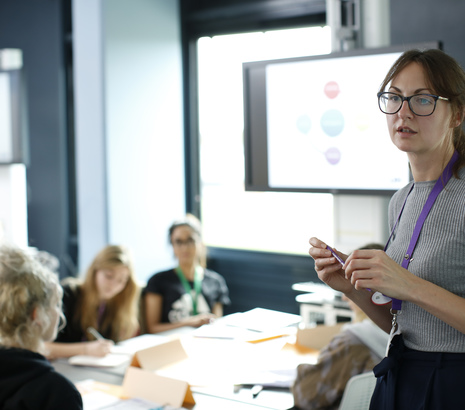 Student Blogs
Katie - Why I love education
What I love most about my course
I loved my course because we learnt Psychology, History of Education, Contemporary Ideas and Philosophy-what is education. In my First Year, to give you a different view what education is about and then you were able to decide if you wanted to general overview of education or be more specific and I chose special education needs as I wanted to understand in more detail about special education needs what it meant in a different context.
In my Second Year, I learnt more about special education needs and what is inclusion I was able to explain what cerebral palsy is to my fellow classmates and we had real-life experiences from other people who had different disabilities talk to us which gave me the opportunity to see it through their eyes and I became to see things differently not everything is as straight forwarded as I first thought.
We were given the chance to have work experience within our modules and I really enjoyed this part of the course as I was able to go back to my old school and do my work experience there as I was able to go to two schools: Lonsdale and Nobel and it were nice to see how much they have changed for the better and I was able to improve their access as they asked my opinion and they have used some of my suggestions that I put forward.
Working with my teacher again was one of the highlights as he said I'm still the same person; passionate about people seeing passed the wheelchair and I have had other students with disabilities come up to me asking who I am and they want to be as confident as I am! This gave me a different idea of what I wanted to do within education, which I will discuss further on.
With the new knowledge that I had gained helped me with my work as a governor as I was able to articulate my views very well and some of my ideas that I have suggested have been used at the school. We were also the opportunity to learn about research and all the terminology, so we had the skills ready for our final year.
They say Final Year is the hardest and I totally agree it is but that is the challenge as learning is not always meant to be easy. We only had one lecture a week for the research project in semester A, the rest were seminars to do with Research and Special Educational needs. Research Project was split into two sections: a proposal of our research project and presenting it as a presentation. This gave the tutors insight about how we thought through our question as it had to be a small example due to the time restrictions so that we focused on the question we wanted to answer.
I was grateful for this as I was able to use the proposed plan as my main structure for the writing part in part two which saved me so much time and effort. I would suggest that you use part one of the research as your layout in part two.
On a personal level, my time at Herts has been amazing even with the challenges that I had to face within the university and school of education are an amazing team to be a part of as they supported me to voice my ideas and express them to the relevant people.
As said previously I was passionate about people seeing passed the wheelchair and because of my personal challenges at university. I then realised I wanted to start my own business as a disability awareness coordinator as I feel that I can educate people on how to how to communicate with people with different disabilities. I have my Canine Partner still waiting for my partnership and I will have him work alongside me in this new journey. So, I have new experiences happening in my life after university which is exciting.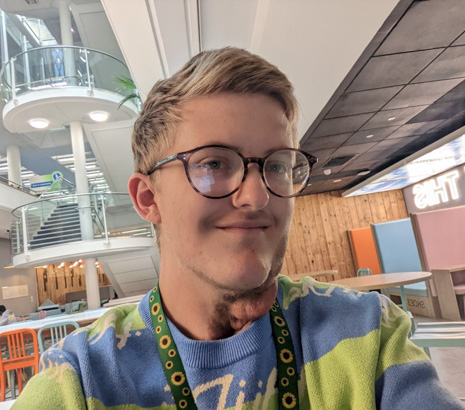 Student Blogs
Noah - A day in the life on my psychology course
Hi! My name is Noah and I'm a third year psychology student here at the University of Hertfordshire 👋
Today I'll be sharing what a typical day looks like for me:
5:30–7:30am: For me, I am definitely an early bird. On days when I have an early morning lecture, I'll wake up at about half-past five, and spend around forty minutes getting ready for the day. After that, I will start block scheduling a general plan of my day on my calendar.
7:30-8:00am: Just before I arrive at University, I like to quickly stop to grab myself coffee (gingerbread latte with oat milk, if anyone is curious) – caffeine is a must!
8:00-9:30am: Once I arrive at Uni, I head straight to one of the many individual study spaces at the Learning Resource Centre (LRC) to begin some work. The LRC is open 24/7 and hosts thousands of books for every subject that the University teaches. The LRC is such a warm and wonderful environment for studying, with both group and individual study rooms, a café (The Retreat) on the lower-ground floor, as well as comfortable sofa, booths and chairs, allowing you to study in any way that suits you.
I prefer being in almost complete silence, by myself, with little to no distractions, so I absolutely love the individual study spaces.
9:30-10:30am: After my time in the LRC, I have a meeting with my project supervisor. All final year psychology students have to complete a 'psychology project', more often known as a 'dissertation', and each student chooses a supervisor for their project, often based on previous work.
During my meeting, I'm advised to make a few adjustments to my ethics and risk assessment forms, so I make a quick note to do so on my phone.
11:00-1pm: Straight after my supervision meeting, I have to attend my only lecture for the day. With psychology, there is a lot of independent research that you need to do, so I don't really have that many lectures that I need to attend. The lecture that I was attending today was on the topic of counselling.
1-3pm: Once the lecture is finished, I make my way back home and have a little bit of a rest. During this time, I also make sure to eat some lunch!
3-5pm: After my break, I jump straight back into work. I begin with making the adjustments to my ethic and risk assessment forms, as I was told to do during my meeting earlier. Once completed, I then start studying for my Counselling module exams.
Once I have completed that, I am absolutely shattered! So I pack everything up and start to relax and unwind.
Thank you for reading my 'Day in the Life'! This is an example of a very busy day for me, so it is vital to note that not every single day is as hectic as this 😀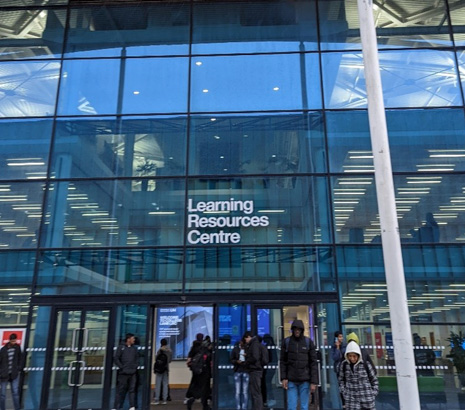 Student Blogs
Noah - About the psychology learning facilities and how I use them on my course
Hi, I'm Noah and I'm a final year psychology student at the University of Hertfordshire!
The University has a wide range of facilities geared towards psychology and I'd like to highlight a couple here:
iLab
Within the iLab, located in the Wright Building, is a classroom with over 40 networked, high-end macs. These macs host and run a wide range of software for undergraduate psychology students - SupeLab, SPSS, NVIVO, and Gorilla are just a handful of these softwares. These cannot run on chromebooks, which many students chose to buy before attending university because they are lightweight and have a low price-range, so the iLab allows students to conduct their own independent research.
Personally, I love using the iLab as I find the large screens and fast responsiveness helpful when reading the detailed tables that come with using, for example, SPSS. Additionally, when I must conduct research using other software that I am not so confident on, the smaller room allows me to ask for help easily and quickly from one of my peers, or even the professor.
Learning Resource Centre (LRC)
The LRC, whilst not geared solely towards psychology students, is still a University facility that aids in my work. The quiet environment on floors G-2 helps me when I really need to focus in on something while 'The Retreat' in the basement fosters an environment where I can freely and openly discuss situations with my peers without feeling as though I must whisper. Additionally, there are hundreds of psychology books available, so I can easily carry out extra reading when it comes to writing essays – allowing me to secure higher marks for doing so 😀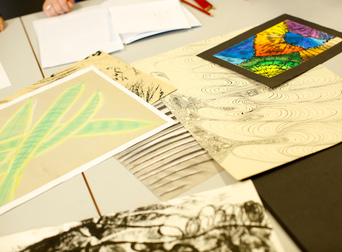 Alumni Stories
Jake Garwood
Meet Jake Garwood who discovered his passion for teaching and education while studying. He currently works as a Year 4 teacher in a junior school near the University.
Read more stories
Find out more about this course
Sparking a passion
Jake decided to go to the University of Hertfordshire based on our 'excellent reputation for teaching training.' His time as a student did not disappoint as his course sparked his passion for education and he says the 'engaging modules at the University and inspiring tutors played a key part in making me the teacher I am today.'
The variety of modules on both of my degrees, from contemporary issues in education to educational technology, from philosophy of education to equality and inclusion, put me in the best possible position to begin my teaching career.'
Aspirations for the future
Jake finds teaching an extremely rewarding career, therefore he does not intend to leave the profession. He says, 'I think it is one of the most rewarding profession available and if you care about the future, then teaching the next generation is one of the best things you can do.'
However, he adds that his ultimate goal is to work towards a Masters in Education, followed by a PhD in the same field. He'd like to keep his options open as to future career paths.'
What's next for my career?

Many exciting career paths could follow your studies. These can include but are not limited to:

Wellbeing Practitioner

Academic Coach

Research Assistance

Teacher (after further study if seeking qualified teacher status)

Support Worker

Advice Worker

Border Force Officer

Careers Adviser

Chaplain

Dance Movement Psychotherapist (after further study)

Art Therapist (after further study)

Education Consultant

Human Resources Officer

Life Coach

Market Researcher

Mediator

Play Therapist (after further study)

Policy Officer

Police Officer

Psychotherapist/Counsellor (after further study)

Social Researcher (in public or private sectors)

Our aim is not only to teach you the theories and principles of psychology but how to use those theories in practical environments. This is the reason why so many of our students thrive in industry after graduation.

View our Alumni profiles

Further information - includes assessment method

| Course fact sheets | |
| --- | --- |
| BA/BSc (Hons) Psychology in Education | Download |

| Programme specifications | |
| --- | --- |
| BA/BSc (Hons) Psychology in Education | Download |

Additional information

Sandwich placement or study abroad year

n/a

Applications open to international and EU students

No

Course length

Full Time, 3 Years
Part Time, 6 Years

Location

University of Hertfordshire, Hatfield

How to apply?

Fees and funding