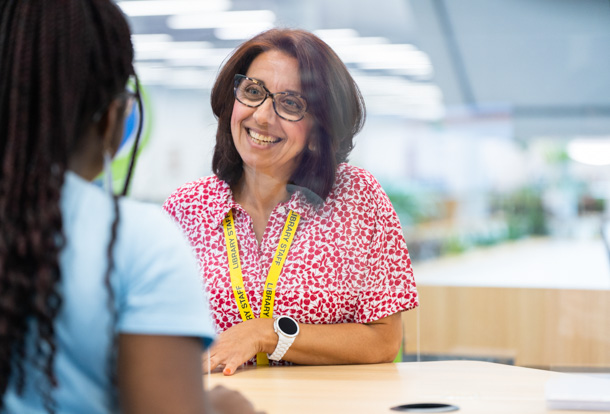 We've put together our most commonly-asked questions to help with any queries you may have around the application process, funding options, support services, accommodation and more.
If you have any other queries, please get in touch via ask@herts.ac.uk.
Applications
Please check your email account used for your application, both inbox and junk mailbox, to see if we have contacted you recently. There may be a request for more information or an email from us with our decision. If you have not received anything within three weeks, please contact ask@herts.ac.uk and our admissions team will investigate this for you. In the meantime, to help keep you informed about events, subject talks and support before joining Herts we recommend you join our mailing list.
With postgraduate courses, you can apply right up until the course starts. However, course places are on a first come, first serve basis and once a course is full, we will close the intake for that semester.
We recommend accepting your place as soon as possible to guarantee your place for the start of term. Don't leave it too late as there are limited places on our courses, and they can be closed once they become full, so we don't want you to miss out on your place.
If you applied directly to us - when you're ready to accept, just drop us a quick email to accept@herts.ac.uk with your name and Student ID, and we'll do the rest. We recommend that you reply to your offer within 14 days as some courses have limited spaces and may be closed when they become full, so we don't want you to miss out on your place. If you applied via UCAS - you will have a date to reply by, you can find this on the UCAS Hub, and that is also where you reply to your offer.
If you have questions about the process of your application, we please ask that you leave it three weeks before checking with us. If you have any other questions, you can always get in touch with us, just email ask@herts.ac.uk or call us on +44 (0)1707 284800.
For applications for a Distance Learning course, please contact the Online Degrees Admissions Team on +44 (0)1707 281121 or email online-degrees@herts.ac.uk.
Fees and funding
We offer a range of tuition fee discounts and non-repayable scholarships to support our postgraduate students. You can get funding for postgraduate study through studentships, loans, bursaries and grants - you might also get help from your employer.
Facilities
Whether you're hard at work, keeping fit or just want to relax, we have a space for you. We are continually improving our learning facilities and social spaces and are committed to giving you an unbeatable student experience.
All about experiences? Get involved with societies and volunteering. Societies are like mini communities that bring together students with similar interests. They range from academic and cultural to music and social so there's something for everyone. Being part of a society is a fantastic way to try something new, meet new people and open yourself up too many different opportunities.
Events
We run several postgraduate events throughout the year with current students, staff, alumni as well as campus tours and virtual tours to help give you a flavour of life at Herts.
Support services
At the University of Hertfordshire, we want to make sure your time studying with us is as stress-free and rewarding as possible. We offer a range of support services, from childcare to counselling, ensuring that you make the most of your time at Herts and can focus on studying, having fun, and have the support you need.
Our courses don't just fire up your imagination, they help you develop the skills and experience you'll need to get the job you want after graduation. Our Careers and Employment team provides up to four years of career support after graduating and a variety of networking events and opportunities to help you make industry connections, find work or gain work placements to help you master your dream.
Location, accommodation and travel
Living in halls isn't just for the undergraduates. A number of our postgrad students choose to live on campus too, and for those who do, we aim to house them together in halls.
We have great travel links and even have our own bus network, which is complete with a student discount, so it'll be easy and cheap for you to get around. Our Park and ride service also means you'll always find a space if you prefer to drive in.
We're based in Hatfield and have great transport links to the surrounding towns and cities. We are close to both Hatfield and St. Albans train stations which is great for getting to us and for exploring the area.
Chat to students and staff
We do have a Herts freshers' group on Facebook which is a great place to engage with new starters and find information about Herts as well as our school pages to engage with other applicants and school events.
Want to know more about our courses, campus life, and studying at Herts? Our friendly students are on hand to answer your questions and tell you about their own experiences. If you have specific course and application queries, our team of staff are also available to talk to. You can chat to someone from the subject area you're interested in, or you can filter by country. It's easy! Sign up below, send a message and our ambassadors will aim to respond to you within 24 hours.