Celestial Explorer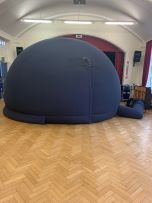 Celestial Explorer is a mobile planetarium experience run by the University of Hertfordshire that brings the wonder of the cosmos to your location.
Our immersive shows cater to both educational and recreational events, and are suitable for all ages and education (from preschool to university) and knowledge levels (from complete astronomy beginner to experienced amateur). We offer a range of shows that are tailored to diverse audiences, with topics ranging from basic astronomy to more advanced concepts.
In addition, we have sensory experiences designed for individuals with special educational needs and disabilities (SEND), ensuring that everyone can enjoy the wonders of the universe. While we aim to be as accessible and inclusive as possible, we currently do not have a wheelchair accessible mobile dome. The entrance of mobile dome must be stepped through to get into it as the material joins at the bottom, which may affect the accessibility for some people with mobility issues. However, if you can visit us instead, Bayfordbury Observatory has an on-site planetarium room which is wheelchair accessible and has a step free entrance. Please do contact us to discuss your accessibility needs and we will do our best to accommodate your needs.
Pricing
We charge £84 per hour we are at your venue (inc. VAT). This includes the time to set up and disassemble the planetarium. We will round to the nearest half hour (for example, if we are there for 4 hours 20 minutes, we will round up to 4 hours 30 minutes).
There is a minimum booking 4 hours (which would include set up and pack up).
For local bookings within 30 minutes travel time from the UH College Lane campus, we do not charge for travel costs, but for bookings further afield we charge £60 per hour travel time (so if the venue is one hour drive from UH according to Google maps, that would add £60 to the total cost).
Venue Requirements
For us to safely run the mobile planetarium, we have a few requirements. Your venue will need:
Floor space of 7 x 7 metres
Height clearance of 4 metres (including light fittings)
Two plug sockets
Placement of planetarium dome will not block any fire exits
Example show contents
A tour of the Solar System: In this show we take a tour around the Solar System, where we visit the Sun and each of the planets from Mercury to Neptune. Throughout we will examine interesting moons and follow famous space missions, and visit some other unusual objects we find in the Solar System.
A tour of the sky and Universe: In this show we cover a broad range of topics, from the constellations to planets, nebulae to galaxies. This show provides the audience with an introduction to all that space has to offer.
Earth, Sun, Moon: This short show is great for young audiences – we take a look at our own planet Earth and then visit the Sun and the Moon. We look at how craters are formed, and how the Sun creates the Aurora Borealis or northern lights. This show can also be expanded to include more science content for older groups who would also like a short show.
Booking
To book, please fill out the booking form. Availability is displayed in the calendar below.
For enquiries or to ask any questions, please email Celestial Explorer lead, Mily Riley, at e.riley@herts.ac.uk.