Recycling and waste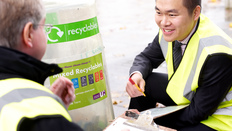 The University understands the importance of creating and maintaining a sustainable environment for staff, students and the neighbouring community and as such adopts the waste hierarchy in its Waste and Resource Management Strategy (launched in 2008, updated 2014 till 2020).
Performance
The University's targets in relation to waste management are detailed in the Waste and Resource Management Strategy that was first produced in 2008, updated in 2011 and updated again in 2015. This Strategy is for that waste managed by the University only, and not that produced during construction, through the PFI or at ULiving.
During 2014/15 the University achieved the recycling targets;

86% of waste was recycled, composted or sent to anaerobic digestion and therefore the 85% target was achieved. This is an increase of 4% from 2013/14
The total waste arising in 2014/15 was 706 tonnes, a decrease from 1,142 tonnes on the previous year and achieving the target of 1,060 as set out in the Waste and Resource Management Strategy
The target for waste arising per head FTE staff and student was 54 kg per head for 2014/15. The University achieved this target, with only 36 kg of waste per FTE staff and student being produced.
So far in 2015/16 (i.e. data up to December 2015) the University has an average recycling rate of 87%, which is so far achieving the 86% target.
Programmes undertaken
The University is in the process of moving towards two waste streams only; Mixed and General. Trails were carried out in the two LRC's that clearly showed that simplifying the recycling facilities, lead to an increase in the recycling rate. This will be a rolling process with all new bin lids incorporating the new design labels.
The University is working very closely with the de Havilland PFI (Carillion) and Derwent/Living waste provider (both also use Cawleys), to improve data collection and performance with recycling rates. Carillion's recycling rate has increased from 27% in 2010/11 to 64% in 2013/14. In 2014/15 Carillion achieved an average recycling rate of 84%. Although this rate has dropped to 78% with data up until December 2015.
ULiving's average recycling rate was 50% for 2014/15, which has increased to a current average rate of 62% (data until December 2015). Although this percentage is significantly short of the University's recycling rate, work is continuing to increase the recycling rate.
Links have been established with ULiving and Carillion to increase their recycling rate and ensure constancy across the University and raise awareness and educate students. Initiatives have included regular meetings between the University, waste contractor, Carillion and ULiving; toolbox talks with students in the halls of residence. Information days held by the waste contractor and University; and regular monitoring of performance in all areas.
The University is also working to improve the waste data collected from small and large construction projects. Data is currently received from those projects using Site Waste Management Plans, where recycling rates for the second year running was just under 100% in 2014/15.
Watch our latest waste awareness video
View the latest Waste and Resource Management Strategy document.