Environment and Sustainability Team Campaigns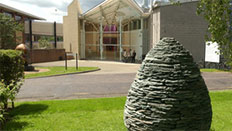 We run a number of campaigns across the University to help our community support the environment and consider sustainability.
On this page you will find information about some of schemes we run annually.
Get involved
Green Impact Award Scheme

What is Green Impact?

Led by the National union of Students (NUS), Green Impact is the University of Hertfordshire's overarching environmental engagement initiative and it is a fun departmental accreditation and awards scheme.

The scheme has been running since 2011/12, starting with 8 teams in year 1 and increasing to 11 at its height in 2014/15.

How does it work?


Teams complete a step-by-step workbook of ethical and environmental tasks, which help to increase sustainability and innovation across the University.

The Environment Team assists teams throughout the scheme and each team will further receive support from a Green Impact Personal Assistant (GIPAs). Once they have submitted their workbooks, teams are audited by students to ensure their submissions are accurate and to provide them with extra support.

All participating teams will be rewarded for their efforts and depending on their performance will be awarded a Bronze, Silver, Gold or Platinum award. Various special awards are also in place to reward teams for both their contributions to the community as well as their environmental improvements, and individuals may be nominated as environmental heroes.

The overall winning Green Impact team also wins a Vice Chancellor's Award for the Environmental Team of the Year. The awards ceremony will be held toward the end of April in recognition of the efforts of all registered teams, with a celebratory lunch prior to the ceremony itself.

Why join?

Join because you wish to grow your environmental good practice, raise awareness of issues of global importance and engage with the University's Environmental campaigns. It is easy and clear to implement, offering a new way to strengthen relations between students and staff.

How to sign up

We encourage new teams to take part and challenge last year's winners, or existing teams to beat their own achievement from previous years.

Ask around to see whether people are interested

There is no minimum size of a Green Impact team, however we recommend that a team with 10 or more people would be preferable as this can reduce the individual workloads. So please ask around your colleagues to see whether you can get their support. The Introduction to Green Impact Scheme gives details on what the scheme is all about and how you can become involved.

Hold a team meeting

Invite people who have shown their interest. This is for you to discuss how to implement the scheme in your team, and to decide a lead contact within the team. You can also invite a member of Environment Team to attend this meeting.

Register your team online

Once the team has set up, the lead contact should register your team, and each team member should also follow the same link to sign up to the team.

If you would like more information or would like one of the Environment and Sustainability team to come and talk to your department about this then please email the Environment and Sustainability Team.

Make a Green Impact!

Environmental Working Group

We have an active working group consisting of staff volunteer representatives.

The Environmental Working Group (EWG) works to raise awareness of environmental issues, to drive environmental improvement in their working area and to support the implementation of the Environmental Management System.

EcoReps

We have an active set of student representatives that help the Environment and Sustainability Team to raise awareness of environmental issues to students.

Our EcoReps actively work to promote events and campaigns such as Environment Week and PowerDown.

Fairtrade Fortnight

Each year staff and students support Fairtrade Fortnight hoping to bring about positive change for millions of farmers and workers in developing countries.

70% of the world's food is produced by 500 million smallholder farmers yet many of them remain trapped in chronic poverty while shoppers enjoy the fruits of their labour. Fairtrade ensures farmers across the developing world receive a fair price for their work, as well as an additional Fairtrade Premium, used by farmers and workers to invest in their communities. The community then decides what the Premium is spent on, whether that's building a new school or hospital, or investing in better environmental business practices.

About Fairtrade

Over the past 20 years, Fairtrade has paved the way for fairer and ethical trading but there is still a long way to go. Fairtrade ensures farmers across the developing world receive a fairer price for their work, as well as an additional Fairtrade Premium which is used by farmers and workers to invest in their communities. The community then decides what the Premium is spent on, whether that's building a new school or hospital, or investing in better environmental business practices.

Fairtrade products change people's lives. We want to drive more benefits for farmers and workers in the Fairtrade system and make sure we can support those who aren't, so they can receive a fairer deal too.

Fairtrade is working

Tsala Mwale is a 28-year-old single mother of one, and a pioneer in her village where she was the first to bring solar power to her home. Fairtrade Premium endorsed her village to construct a borehole which now gives clean water to the community. Tsala and 1.4 million farmers and workers across more than 70 countries around the world depend on Fairtrade and upon our choices.

Fairtrade fortnight

The University of Hertfordshire community has demonstrated willingness to learn and take action during the 2016 Fairtrade Fortnight events. This year the annual Fairtrade awareness week took place on Monday 29 February 2016 and ran until Friday 11 March 2016. This year the theme was "Sit down for breakfast, stand up for farmers".

The Environment and Sustainability team hosted stands displaying the range and distribution of Fairtrade products around Hatfield. This included Asda, Aldi, TK Maxx and The Cooperative shops where certain Cadbury, Nestle and soap products were found to be Fairtrade.

Our coffee supplier Peros were invited and gave out free Fairtrade coffee and chocolate in The Forum. The Blendavenda smoothie bike was also in The Forum using Fairtrade fruit for smoothies. Students also creatively embellished their own Fairtrade themed shirts at the Atrium on the de Havilland campus. Most importantly, we acknowledged how our actions are a simple, powerful way to make a difference to the people who grow the things we love.

Thank you to all staff and students who took part in this year's Fairtrade Fortnight events, especially in this year when the University was recertified as a Fairtrade University. Also, a big thank you to the Students Union and FoodHertfordshire who played a major part in making the Fairtrade events happen. Finally, thank you to all the Green Impact Teams who hosted Fairtrade activities including the Fielder Centre, the Careers Office, the Employment and Enterprise team, Finance, Carillion, the OVC and CSC, who all organised their own Fairtrade breakfasts.

Find out more

For further details please contact the Environment and Sustainability Team.

Environment week

Environment Week is an annual event delivered by the University of Hertfordshire's Environment and Sustainability Team in November of each academic year. It has been part of the awareness raising scene for over 8 years and is aimed at staff, students and visitors to the University.

A number of diverse attractions are scheduled and the event aims to raise awareness of local and wider environmental issues. Information on University Sustainability courses, themed campaigns and employment opportunities are all provided.

The 2016 Environment Week was a huge success. The Environment and Sustainability Team would like to thank all the people who engaged and made it possible. A myriad of events took place covering topics from transport to food sustainability. Described here is a brief insight into the experiences and attractions which took place throughout the week.

Energy and water awareness

The Energy Bike and Water Explorer were present at the Forum on College Lane. Ambassadors from the Global Action Plan received a great response to the two Eco-Interactive events, particularly the Energy Bike'. Both activities demonstrated how small changes in our habits can have a huge impact on our water and energy consumption.

Transport awareness day

At the Forum, Intalink were present to promote the mobile ticketing app, which allows UNO bus tickets to be purchased using a smart phone. Also present were E-Car and UBike in the Forum creating awareness of the sustainable travel options available.

Biodiversity awareness on campus

Wednesday in the Atrium on the de Havilland campus was oriented towards biodiversity awareness. The RSPB were there to recruit new members throughout the weekly stands and where they highlighted the declining number of hedgehogs.

Waste awareness

Organised a litter picking by volunteers was a well attended activity and despite the awful weather. Students still took action and picked litter along College Lane. Cawleys, the University's waste contractor, and Welwyn Hatfield Borough Council were present to provide waste reduction tips and Cawleys were on hand to explain how the University manages its waste chain.

Food sustainability and Fairtrade awareness day

For the second year we had a Food Sustainability themed day covering Fairtrade and Food Sustainability campaigns. Visitors were invited to taste food from FoodHertfordshire and also got a chance to ride the original cycle powered smoothie maker, the Blendavenda.

Networking and sharing

This is just a taster of the what goes on at an Environment Week event – The real protagonists have been over 400 visiting guests, 22 volunteers and the huge number of staff and students engaging and interacting with the stalls, trips and events.

Environment Week provides the opportunity for networking and sharing of ideas, as well as a chance to meet new and interesting people. It widens participants' spectrum in regards to contentious environmental issues of today's world by encouraging them to become more conscious of what is happening around them.

Charity collections at work

The University has regular charity collections every month and is currently supported by the British Heart Foundation. Staff and Students are encouraged to bring their donations into work to be collected from strategic points around the campus.
The donations received power the British Heart Foundation's lifesaving research into inherited heart conditions and coronary heart disease.

What can you donate?

Clothes
Accessories
Books
Music
Entertainment
Bric a brac
Household items (bedding/curtains etc).

British Heart Foundation Collection points

Collection points are at the Forum, College Lane Campus and The Atrium, de Havilland Campus.

When are the collection dates?

The charity collections are usually on the last Monday of every month, details of which are advertised on the University Events page.

For more information on donation or volunteering, visit the British Heart Foundation website, email the Environmental Coordinator
Any questions?
Contact the Environment Team if you have any queries about environment and sustainability or the events that we run.