MA Fine Art
About the course
On the MA Fine Art degree you will develop your individual creative practice in Fine Art.
This postgraduate degree allows you to develop knowledge and understanding of current critical debate.
Gain advanced technical and entrepreneurial skills for the successful creative practitioner.
You will work alongside practitioners working in a range of areas of practice, in stimulating and challenging environment.
Take a look at our MA Art booklet.
Why choose this course?
MA Fine Art is a Masters award within the MA Art and Design programme at the School of Creative Arts. Within the postgraduate programme there is strong emphasis on professional practice and the real-world applications of art and design. You will develop key research skills and gain a good understanding of the work of other practitioners in your field.
The aim of the Fine Art programme is to equip you with the skills, knowledge and understanding required to practice at an advanced level, to foster your creativity and enhance your employment opportunities. You will work alongside artists and designers and benefit from contributions from visiting artists, designers, makers, as well as from involvement with our international exhibitions programme and gallery environment. This is the perfect opportunity to develop your individual creative practice and place it within the wider professional context of fine art.
You will work with other students to explore and challenge the boundaries of your practice and, through discussion, explore some of the key ideas that inform contemporary fine art practice. We strongly encourage conceptual experimentation and development of originality in use of materials to explore possibilities and realise the potential of your ideas. Seminars, research methods and debates will help you to advance, as well as technical skills.
Our staff are experienced in research and professional practice, and you will also benefit from contributions from visiting artists, designers, makers and other arts and design professionals, as well as from involvement with our international exhibitions programme and gallery environment.
Induction, seminars and social events for students and staff mean that you will be part of a friendly and supportive postgraduate community, which also includes film makers, musicians and professionals working in new media. Senior research staff and internationally renowned artists work with postgraduate students, helping you to develop original and challenging work.
Careers
The MA Fine Art is designed to enable you to operate successfully as a professional practitioner in your area of specialism. Graduates have gone on to establish studios, exhibit professionally, work as curators, Phd study, teaching, work towards site specific commissions.
Teaching methods
The programme is centered on individual practice and encourages critical dialogue between traditions, disciplines and media. The practice modules develop individual practice through a combination of work-in-progress seminars, tutorials and gallery visits and discussions. A sustained body of creative work forms the basis of assessment, supported by written documentation and assignments. The course is also designed to help you acquire research skills and understand what is going on now in fine and applied arts.
Structure
Level 7
Core Modules
Creative Economies - 15 Credits
Major Study: Fine Art - 60 Credits
Research and Enquiry - 15 Credits
Discourse/Reflection: Art and Design - 30 Credits
Practice 1: Art and Design - 30 Credits
Practice 2: Art and Design - 30 Credits
Optional
Research and Enquiry (Online) - 15 Credits
Creative Economies (Online) - 15 Credits
Fees & funding
Fees 2018
UK/EU Students
Full time
£8000 for the 2018/2019 academic year
Part time
£665 per 15 credits for the 2018/2019 academic year
*Tuition fees are charged annually. The fees quoted above are for the specified year(s) only. Fees may be higher in future years, for both new and continuing students. Please see the University's Fees and Finance Policy (and in particular the section headed "When tuition fees change"), for further information about when and by how much the University may increase its fees for future years.
View detailed information about tuition fees
Other financial support
Find out more about other financial support available to UK and EU students
Living costs / accommodation
The University of Hertfordshire offers a great choice of student accommodation, on campus or nearby in the local area, to suit every student budget.
Entry requirements...
An honours degree (2:2 or above) in a field relevant to the award you want to study. If you do not have a degree, you will need to show you have appropriate professional experience and skills to benefit from the course. We may also be able to take into account accredited prior learning (APL) or accredited prior experiential learning (APEL). If your degree is in a different field, you will need appropriate knowledge, skills or experience in the field you wish to study, or be able to show that you are prepared for intensive new learning. In all cases you will need to demonstrate through a portfolio or interview your preparedness for study at postgraduate level.
If English is not your first language, you will need a minimum IELTS score of 6.5 or equivalent.
For country specific qualifications, please visit our Your Country page.
If you do not have the required level of English for entry, our academic English courses can help you to achieve this level.
How to apply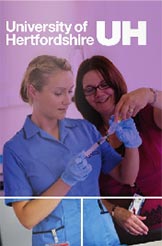 Download the Prospectus