Twitter
With a base of 336 million monthly active users, Twitter is most well-known for its feed of real-time updates. To keep Twitter snappy and informative there are character counts in place. This allows users to make updates quickly.
As Twitter is a place for constant communication, we should use this channel to keep Herts audiences informed. For example, during the COVID-19 crisis, many students turned to University Twitter accounts, expecting the latest updates. It is important to have up to date information being disseminated through this medium as a priority (especially regarding an emergency or crisis). To ensure important updates are easily found you can add hashtags. This helps users find streams of relevant conversation on the platform.
Need to knows
Our audience on Twitter
Primarily the audience on this platform includes Undergraduates, Postgraduates, Alumni, Staff and Academics, with a lesser focus on Corporate.
Visuals not needed
As Twitter is relied on as a quick disseminator of information, you do not always need to worry about including a visual. However, they are still recommended! See Brand Toolkit for more info.
Character limits
Watch out for character limits (see below). This also includes URL's, so make every character count.
Shortening URLs
Twitter automatically shortens long URLs to 23 characters with an ellipsis. The beginning of the URL will still be visible, so wherever possible ensure the link destination is clear (i.e. herts.ac.uk). There are social media management platforms (such as Orlo, Tweetdeck or Hootsuite), which can embed a URL into an image or that abbreviate the URL automatically. Please reach out to the Social Media team if you need assistance with this.
Post often
Twitter is considered a more 'unfiltered' and 'on-the-fly' platform. As such, the quantity of posts and retweets that flood one's feed is very high. Tweets can be easily lost in the feed, so should have strong content and be more frequent in order to increase the likelihood of being shared organically.
A good way to think about it is like conversations rather than quantity. If you can increase conversations (not necessarily just with your account) the original engagement will be linked to you.
Content planning
Due to the high number of posts ideally required for Twitter, consider writing content ahead of schedule in one go. Then you can set it up to be automatically posted by such sites as Hootsuite.
It is a good rule of thumb to do this for content that has fixed details (unlike events), as if things change it can be harder to update within scheduling apps.
Be sure to check the tweets are correct as once posted these can't be edited.
Use hashtags
Twitter was the first platform to use hashtags and it is the core of their filter system. Don't go overboard, but ensure you use some that are relevant and targeted. Hashtags can be used within sentences where appropriate.
Before using a # check that it's not already used in alternate tweets which you may not want to connect with. Also check, as there are no spaces, that the # can't be misread (see: Susan Boyle's Album Launch Party).
Search via hashtags
By searching key words and phrases, you can check out conversations about news, events or industry updates. This can be a good way to find appropriate and relevant content to comment on or retweet.
Retweeting
Retweet related and valuable tweets from students, academics, government organisations or companies. Retweeting too much can muddy the brand's personality, so try to create a tweet from your brand at regular intervals.
In case of the corporate accounts, retweeting with a caption may be better than a simple retweet. It allows your own stamp to be put on the tweet, contributing to the conversation and showing the brand TOV/perspective.
Get in on conversation
Twitter allows for brands to exchange dialogue with experts and students. When appropriate, be a part of important conversations in the educational sector. Having said that, always ensure your input is honest, accurate and authorised.
Best practice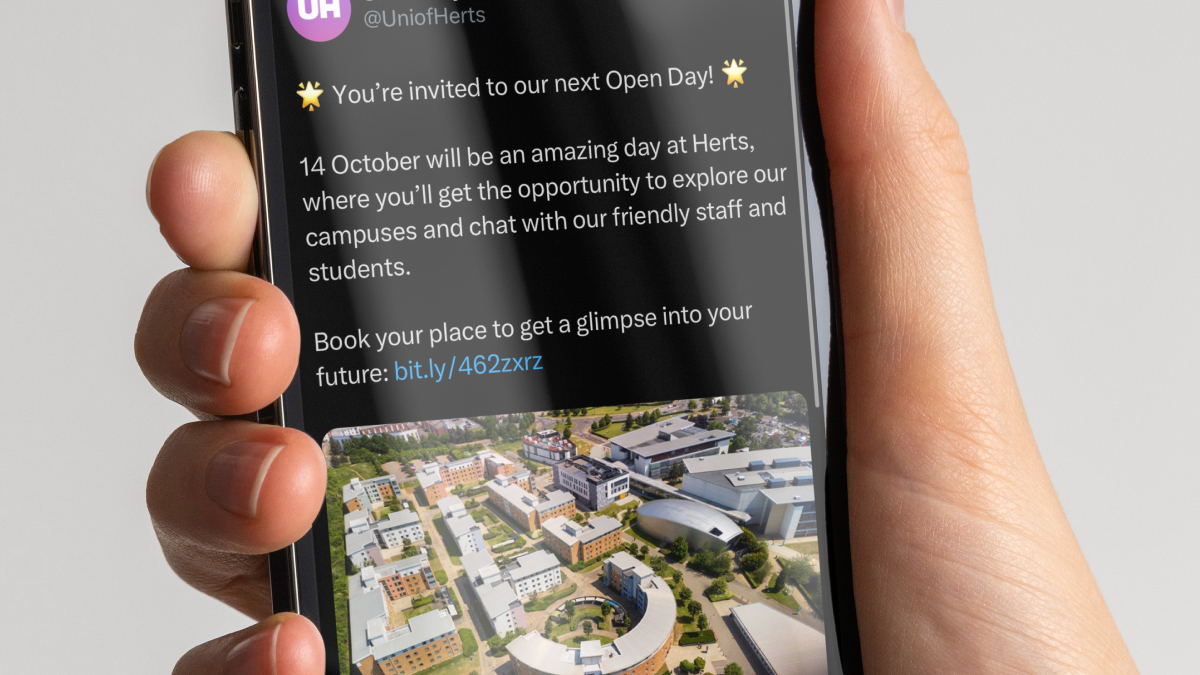 Dos and don'ts
| ✅ You should always | ⛔️ You should never |
| --- | --- |
| Post important, up to date information - especially in an emergency or crisis. | Never hold off on posting important information for a 'visual' accompaniment. |
| Watch out for those character limits. | Never feel you have to use up all the characters. Shorter is better. |
| Post often (but not on irrelevant topics. Keep quality high). | Don't use too many hashtags. |
| Plan your content ahead of time (but not for items likely to change like events). | Don't use irrelevant hashtags. |
| Schedule your content. | Don't deviate from the brand personality and platform tone. |
| Consider your URL aesthetic. | Never target students directly. |
| Use relevant and targeted hashtags. | Don't over-retweet. |
| Retweet related and valuable tweets from students, academics, government organisations or companies. | Never retweet or post anything offensive, inappropriate, or obscene. |
| Add captions to retweets where appropriate. | Don't just recycle old posts or posts from your other social channels. |
| Get in on conversation. | Check you are on the correct account if you work between business and personal profiles. |
| Always ensure your input is honest, accurate and (wherever possible) authorised. | |
| Ensure all assets are the correct specification. | |
| Use analytics. | |
| Check spelling and grammar. | |
| If in doubt, consult a second opinion. | |
Platform specifications
| | |
| --- | --- |
| Ideal word count | 71-100 characters |
| Cover photo | 1500 (w) x 500 (h) px |
| Profile | 400 (w) x 400 (h) px |
| Shared image | 1024 (w) x 512 (h) px (jpeg, png: max 5mb, gif: max 3mb) |
| Shared link | 520 (w) x 254 (h) px |
| Max video length | 2 minutes 20 seconds |
When to post
It is always important to remember not to post for the sake of posting something. If you're not saying something with your post, it's not worth posting. You could throwback to another post as an alternative to keep the conversation going.
High
40 tweets per day
Low
4 tweet per day
Recommended
Recommended: 7 tweets per day – but only tweet if you have something to say.
When
Tweet 1: 7 am
Tweet 2: 9 am
Tweet 3: 12 pm
Tweet 4: 3 pm
Tweet 5: 5pm
Tweet 6: 7 pm
Tweet 7: 9 pm
Notes
Use scheduling software to keep up with high demand of tweets and key timings.
Although this is a great place to start, use the platform analytics to discover what works for your audiences (i.e. how often, what days, what time, etc.). Twitter analytics can be accessed from any page. Click "More" located on the left-hand side menu. Under that submenu, select "Analytics".
Our audiences
Undergraduate audiences
Undergraduates will heavily rely on it for information and updates, both serious in times of crisis (such as COVID-19) and for more casual information (such as about events or societies).
You can also expect undergraduates to speak candidly about the University on Twitter and Facebook. Do not be afraid to engage with them and the community on there.
What are their preferred social media platforms?
Facebook, Instagram and Twitter will be their most popular choices. They will expect information targeted to them, so it is important that they are regularly catered to in posts.
Undergraduates use Instagram as a way to keep up to date with the latest things happening at the University (i.e. upcoming events, festivals or workshops), or to simply engage with content they enjoy. We are seeing increased engagement in things like Instagram Q&As so there is a shift towards engaging with the platform for information, but which is more tailored to their specific needs and questions.
Undergraduates are not on LinkedIn too often, but when they are there, they are looking at internship and work experience opportunities and to increase their connections.
What about prospective students?
There is also some overlap between undergraduates and prospective students. Prospective students will be largely interested in seeing on social media how the student life and experience are represented.
However, there are distinct times of year when prospective students will be engaging with the University in greater numbers. Be sure you are not neglecting this audience for topics such general research, open days, prospectus/course information and clearing – in line with the campaigns around recruitment that will be running.
Prospective students will rely on a university's social channels to help them gather a sense of the brand, which will in turn help them make decisions around applications. Research shows that social media is the first place they will look (before the website) for information and to start forming an opinion of the University. They will also use Instagram as a way to virtually see the campus, the students, lessons, facilities and the surrounding area, to give them a sense of what it will actually be like to study there.
Postgraduate audiences
Postgraduates will have pride in their university. Connecting with them through social media allows them to personally interact with the brand. This could be through engaging with content but could also be by sharing their own content which relates to the University, e.g. photos of themselves on campus or with friends.
What are their preferred social media platforms?
Just like undergraduates, postgraduates would be relying on University Twitter accounts for up to date information about the COVID crisis, and would engage with Facebook in a similar way.
Postgraduates are likely to be somewhat more active on LinkedIn than undergraduates, investigating work opportunities and building their profile. Utilising LinkedIn to highlight professional opportunities for postgraduates can therefore be very effective, and any help you can provide to help them grow their network and visibility will be appreciated by them.
Similar to undergraduates, Instagram should be used to showcase any new events and offerings around the University, but again, postgraduates will also engage with content they simply enjoy (e.g. beautiful campus photography, campaign content around Black History Month)
For postgraduate students who are already familiar with the University, there could be an opportunity to engage them with new courses or offerings, so consideration should be given to how to share this information most impactfully across the relevant channels that doesn't come across as overtly sales led.
Corporate and enterprise audiences
Our corporate audience encompasses anyone who engages with our social channels who isn't a student or prospective student. This could include parents, local government stakeholders, research partners, funders, ex staff, alumni and local residents.
Our enterprise audience is part of our corporate audience, but it is more specifically commercial partners, businesses who have a relationship with the University (e.g. incubator businesses, those who employ one of our apprentices, those who have received coaching support.
The awareness and engagement with the University brand will vary as this collective audience is diverse in its relationship with us. It is therefore important that information is being disseminated clearly and accurately.
What are their preferred social media platforms?
Because the corporate and enterprise audience is so diverse, there is engagement with all of our social media platforms in different ways.
For example, we currently use Facebook, Twitter and Instagram to talk primarily to students, but that doesn't mean that a local government stakeholder or alum isn't interested in how we do that and the information we share.
LinkedIn is a key channel for our enterprise and alumni audience to engage with us. The University currently uses it to engage directly with businesses, for example to promote our volunteer business support scheme. It is also a key channel for alumni to build their professional network and profile. Similar to postgraduates – any support we can provide to connect alumni to opportunities via LinkedIn will be appreciated by them.
What about tone of voice?
Although the core University social media channels are primarily targeted to students currently, there are opportunities to engage directly with corporate and enterprise audiences, and where that is the case we recommend the tone should be professional, but also honest and informative so that there's an alignment with the student focused tone of voice (if your social media accounts are also talking to both audiences).
Use of emojis or colloquial language isn't recommended, or too many exclamation marks! Aim for 'professional and positive'.
Staff and academic audiences
Staff and academics will have an overview of all social channels but will be heavily reliant on Twitter to receive up to date information, not just about the University but about issues affecting the sector (Twitter is widely regarded as the best source of breaking news).
However, staff and academics should never use social media to break news or news that has not been confirmed by the university (PR are the first contact for this). We would encourage news being shared via internal channels first (e.g. HertsHub, UHQ emails) and that social media is a way to amplify that and ensure that it reaches more of our audience, where appropriate.
Staff and academics also use Twitter to promote research and other interests. This can be a rich area for retweeting on behalf of the University, showcasing some of the work of the staff and academics. LinkedIn is used currently but not as consistently or actively by our staff and academic community.
How do I engage my fellow staff and academics in using social media?
This group will have a presence on LinkedIn, for more professional and career specific interests, but as a key business engagement platform, staff advocacy on this channel can be a remarkably powerful tool. However, not everyone will know where to start.
To encourage more engagement with LinkedIn from your fellow staff and academics, ensure you:
Leave prompts for their input.
Lead by example, with more senior members.
Ask or motivate their involvement (motivations include elevating their own personal brands by association, driving more and faster revenue generation and more connections).
Educate them to empower them. There are misconceptions that LinkedIn is just somewhere you go when you're looking for a job, and those that have been at the University for a number of years probably already have a rich internal network of contacts and don't see the value. Highlight the benefits of being present on LinkedIn, beyond job hunting, e.g.

Keeping an eye on competitor institutions
Keeping abreast of key research sector or industry news and opinions
Accessing training and development opportunities
Building a captive audience for sharing of research etc
Leave them with confidence their input is valued and teach them the basics of posting in association with the university, such as:

Tag the university
Ensure you have permissions
Ensure you're not sharing offensive content
Similarly, Twitter can be an excellent platform for sharing research and keeping abreast of industry or research sector news. At present there is good engagement with Twitter amongst the academic community, but this could be amplified by regularly tagging the University in posts, linking to relevant areas of the website and encouraging sharing of colleagues content amongst teams or departments (via personal Twitter profiles or professional), to increase breadth of reach.
What about tone of voice?
Our communication style internally is honest, informative and clear. This is particularly true in the UHQ emails, and for content created for staff on HertsHub. These principles should apply to engage with staff and academics on social media too. Even when the subject matter or content relates to complex research, a clear tone of voice and message works best to ensure it resonates with a broad staff/academic base and is relatable for all.
There is a temptation to want to convey the complex in a complex way, but this is not recommended for any of our audiences. Social media is a place for snapshots of digestible information which can prompt audiences to delve deeper, but they should still get a clear sense of the theme/story from the content of your post, regardless of platform.
Related guidance
Get in touch
If you have any questions please contact a member of the team: