Client interviewing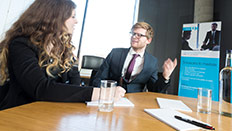 Any legal practitioner will tell you that before you can begin a trial process, you need to plan your case and assess the situation.
That is why we offer you the chance to learn important preliminary skills of client interviewing and conference skills on top of trial procedures.
Transferable skills
Client interviewing and conference skills will be invaluable in any graduate career, but particularly if you plan to qualify as a solicitor or barrister.
You will learn how to analyse client instructions and witness statements, so you can determine the real issues and assess the strength of your client's case.
This is then put into practice as you learn different interview techniques, in order to gain the information you need and to be able to provide legal and practical advice in relation to the situation.
Alongside this, you will learn about the various ethical rules that you need to comply with and so gain a further head start for your future studies and career. As part of this activity, we enter a team each year into the National Client Interviewing Competition.