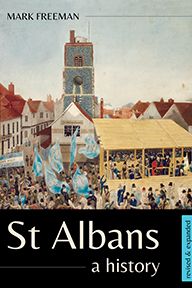 St Albans: A history
Author: Mark Freeman
Price: tbc
Coming soon
About the book
Mark Freeman's classic history of St Albans, first published in 2008, has been substantially rewritten by the author and brought fully up to date, making it an invaluable guide to more than two thousand years of St Albans's history.
From the late Iron Age, when the new oppidum of Verlamion emerged at the site of modern St Albans, to plans to develop the city's unique 'brand' in the 2010s, this is a scholarly yet highly readable account of St Albans from pre‐Roman times to the present day.
The Roman settlement of Verulamium grew out of Verlamion soon after the Roman invasion; in 60 CE it was attacked during Boudica's great uprising against Roman rule, along with Colchester and London. Becoming one of the most important towns in Roman Britain and the site of Britain's first Christian martyrdom, Verulamium later took the martyr's name as its own, the abbey dedicated to the saint among the most significant religious houses of medieval England. For many in St Albans, the long period of conflict between the abbey and the civic authorities would have cast a shadow over their lives, but the history of St Albans is also the story of political upheavals that beset all England through the centuries, as experienced by the citizens of a rapidly evolving town. Like many other places, it was touched by the Norman conquest, the Wars of the Roses and the civil wars.
More about the book

The emergence of urban self‐government in early modern St Albans provides a case study of a process that happened throughout the country. The same is true for the account of St Albans's suburbanisation and the emergence of a commuter population fostered by the railways in the nineteenth century, the growth and decline of the local manufacturing economy, and its participation in the growth of mass education, consumerism and democratic politics. At every point in St Albans's history, two key themes play out: the proximity of London, and an awareness of the significance of its own history. The past is a powerful resource, helping a community to understand the events that have made it what it is. That process is exemplified in this masterful volume.

About the Author/s:
ISBN: 978-1-912260-65-2 Format: Paperback, Published: Nov 2023
Any questions
Contact us at UH Press if you have any queries or would like to find out more about this book.