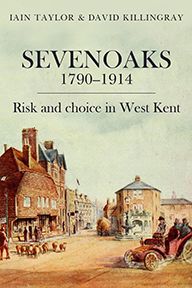 Sevenoaks 1790–1914
Risk and choice in West Kent
Author: Iain Taylor, David Killingray
Price: £14.99 £11.99 (free p&p)
"
"The authors successfully develop and explain the idea of risk and choice factors and their effect in West Kent in the period 1790-1914. It is a well written, beautifully produced book, with a wide selection of photographs and other illustrative material, backed up by an excellent use of contemporary evidence."
About the book
"I want to say how much I enjoyed reading the history of Sevenoaks 1790-1914. I thought it made a splendid job of combining rigorous analysis with plenty of evocative local detail, for those of us brought up in the town, and I liked the themes of risk and choice." Jonathan Barry, Emeritus Professor of History at Exeter University
"This fascinating study of changes in British society through the experience of Sevenoaks in the long nineteenth century brings a breath of fresh air to local history." Elizabeth Edwards, Archaeologia Cantiana
"[This] enthralling new book by Iain Taylor and David Killingray… illustrated with maps, tables and colour plates… proves an absorbing read." Geraldine Tucker, Sevenoaks Society Newsletter
"The book is a pleasure to read, with copious illustrations and maps helping those (like the current reviewer) who have never been to Sevenoaks to navigate the area and its history." Rohan McWilliam, Journal of Victorian Culture
This book offers a fresh perspective on British history in the long nineteenth century through the lens of a study of Sevenoaks and the surrounding area of West Kent. It considers, in particular, how the risks faced by the people of this region, and the choices they made to try to mitigate them, shaped their lives and relationships.
During a period of often dramatic change, the economic, social, political, religious and cultural interests of individuals were subject to different risk factors; the responses they made (and the reasons for those choices) provide valuable insights and enable the writing of highly nuanced local history.
The authors pinpoint the fundamental risk factors affecting the lives of West Kent's inhabitants (especially the poor): the struggle to obtain the four bare necessities of shelter, food, fuel and clothing, without which their survival was threatened.
More about the book

Other risks abounded too, from abysmal sanitary conditions and the dangers of giving birth, to industrial injuries and being a victim of crime. Secure work and strong family networks were essential to limiting risks – often forming part of the 'makeshift economy' – as well as charity, education, health insurance and access to medical care. For many, not all these options were available – or not until much later in the period.

Choice was central to religious and political struggles. The examination of beliefs and values reveals the immense impact such issues had across West Kent society, and how and why it divided as a direct result. Finally, the authors consider the advent of motor vehicles, which combined both risk and choice in exciting but potentially dangerous ways.

This innovative approach provides a fruitful new way of writing history and offers a model for future local history studies.

Read a sample chapter

About the Author/s:

---
ISBN: 978-1-912260-61-4 Format: Paperback, 296pp Published: Dec 2022
Any questions
Contact us at UH Press if you have any queries or would like to find out more about this book.