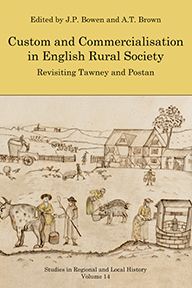 About the book
"University of Hertfordshire Press should be congratulated for making these diverse... fascinating local studies available so cheaply. And they have bothered to provide a consolidated bibliography: something those hardback collections usually lack but which is so welcome to researchers." Heather Falvey, The Ricardian
"This impressive… collection of essays is thought-provoking and diverse, covering regions, relationships, and industries that have been under-researched, and it offers nuanced reconsiderations of the principles of Tawney and Postan's hypotheses." H.R. French, Economic History Review
"This is a well-produced and well-priced book that provides good examples of the way in which debates begun by the great historical figures of the last century are being revisited and reshaped by the present generation of economic and social historians of the pre-modern era." Dr Chris Briggs, Continuity and Change
"In this volume, Bowen and Brown have bought together a very strong set of contributors to revisit the major questions raised by Tawney and Postan through new case studies of diverse aspects of the period. As Christopher Dyer shows in a fascinating biographical chapter, these two scholarly giants had only 'rather skeletal evidence' to work with, but managed to present powerful visions of two societies driven into crisis through unsustainable growth. Moreover, both of these historians were interested in the dynamic relationship between 'custom' – such as feudal tenures, fixed rents and common-field agriculture – and 'commercialization'. These themes tie together the volume as a whole, though as the editors show in their introduction, the essays also here push further than Tawney, Postan or most of their followers." Brodie Waddell, Social History
"A great strength of Custom and Commercialisation in English Rural Society is its review of major historical debates and an examination of their relevance today. Local history is at its best when its writers build on the foundations of such work and the University of Hertfordshire Press is to be congratulated on publishing its series of Studies on Regional and Local History." Dr Gillian Draper, Journal of Kent History
"Postan and Tawney would have enjoyed reading this volume, particularly the way in which the artificial distinction between the medieval and early modern periods for local historians is shown to be an unnecessary barrier when it comes to disentangling movements within each local economy." John Beckett, The Local Historian
English rural society underwent fundamental changes between the thirteenth and eighteenth centuries with urbanisation, commercialisation and industrialisation producing new challenges and opportunities for inhabitants of rural communities.
However, our understanding of this period has been shaped by the compartmentalisation of history into medieval and early-modern specialisms and by the debates surrounding the transition from feudalism to capitalism and landlord-tenant relations.
Inspired by the classic works of Tawney and Postan, this collection of essays examines their relevance to historians today, distinguishing between their contrasting approaches to the pre-industrial economy and exploring the development of agriculture and rural industry; changes in land and property rights; and competition over resources in the English countryside.
More about the book

These case studies further highlight the regional diversity of medieval and early-modern England by focusing on the mixed economies of south-western, western and northern England, and the role of coastal and urban communities within the rural economy.

Custom was a contested set of rules based upon historical precedent which governed the behaviour of village communities, and a key theme of Tawney's Agrarian Problem was the 'struggle between custom and competition'.

This collection of essays reconsiders the role of custom in medieval and early-modern England by arguing that it often facilitated the commercialisation of rural society in this period rather than hindering it. The book has an intentionally broad chronological span, ranging from the thirteenth century through to the eighteenth, exploring the interactions between custom and commercialisation during a key period in the economic development of English rural society.

The contributors include: James P. Bowen, John Broad, A.T. Brown, Christopher Dyer, John Gaisford, Tom Johnson, David Rollison, Simon Sandall, Alexandra Sapoznik, William D. Shannon, Sheila Sweetinburgh, and Andy Wood.

Read a sample chapter

About the Editor/s:

---
ISBN: 978-1-909291-45-4 Format: Paperback, 326pp Published: Jun 2016
Any questions
Contact us at UH Press if you have any queries or would like to find out more about this book.