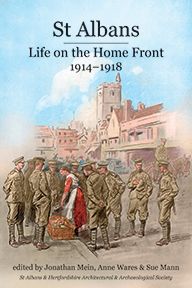 About the book
"an excellent and illuminating panorama of St Albans from 1914 to 1918." Richard Batten, International Journal of Regional and Local History
"an impressive addition to the outpouring of local histories on the Great War in these centenary years" Keith Grieves, Social History
"This book is full of fascinating and unexpected detail showing how all levels of society either fought against or adapted to the impact of war… There is so much to admire in this book, not least in the amassing of so much enthralling detail to tell a comprehensive story of four years' concentrated social change. Local historians wishing to tell the story of their area in wartime will be inspired. The team of twenty-one researchers is to be congratulated on its impressive achievement." Ruth Jeavons, Herts Past & Present
"An exceptional book which will appeal to historians of the locality and the war." Jane Tunesi, Hertfordshire People
Much has been written about the men who left to fight in the First World War but what was life really like for those left behind on the Home Front?
A bustling market town profoundly touched by the war, St Albans is the perfect place of which to ask this question, thanks in part to the survival of exceptionally rich archives of records from the period.
More about the book

In 1914 St Albans had a population of over 24,000 people. Within days of the outbreak of war, with all the emotion and upheaval that entailed, the town also had to adjust to the arrival of more than 7,000 soldiers for whom billets needed to be found.

This book considers the social changes that took place as St Albans became a garrison town for the first time in centuries.

In the early decades of the twentieth century St Albans had a diverse economy. Along with the established straw-hat-making factories and silk mills, other light industry had been introduced more recently, notably printing and clothing manufacture. There was contrasting prosperity and poverty, with slum housing conditions for many of the workers.

As taxes increased and the Army ceaselessly looked to recruit more men, every enterprise fought to survive.

The registers and minutes of the St Albans Military Services Tribunal, which, unusually, were not destroyed after the war, allowed the authors to explore the conflicting needs of the military and local businesses. From early 1916, the Tribunal heard applications from 1,050 men for exemption from conscription, including 24 conscientious objectors.

As the war went on, maintaining a regular and constant supply of food for the nation became ever more challenging. Shortages and complaints about unfair distribution led to the introduction of rationing in 1918 and queues became a daily fact of life. How was St Albans fed?

Read a sample chapter

About the Editor/s:

---
ISBN: 978-1-909291-74-4 Format: Paperback, 296pp Published: Sep 2016
Any questions
Contact us at UH Press if you have any queries or would like to find out more about this book.