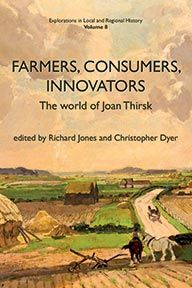 Farmers, Consumers, Innovators
The world of Joan Thirsk
Editor: Richard Jones, Christopher Dyer
Price: £16.99 (free postage)
"
"This attractive, well-produced volume came out of a conference to celebrate the life of Joan Thirsk (1922–2013). It features contributions by those who knew Professor Thirsk well, together with papers by newer students of some of the subjects she held most dear... The book... will be of great interest to those working in agrarian and economic history."
About the book
"[A] succinct and handsomely produced volume..." Kate Tiller, International Journal of Regional and Local History
"The book is attractively produced, well illustrated, and reasonably priced. Focusing on several key aspects of Joan Thirsk's wide ranging interests, this book deserves the attention of economic and social historians of the late medieval as well as the early modern periods." John S. Lee, The Ricardian
"The strength of the book... is in the combination of papers on a diverse range of related topics. As historians with the vast range of expertise that Thirsk held are very rare for most readers it will provide thought-provoking links between their own field and ones they may not have considered before." Ronan O'Donnell, Landscape History
"What we have here, therefore are accessible, readable, thought provoking summaries and critiques of debates which Thirsk has been instrumental in making central to the study of rural social history, combined with practical examples of how a wide range of sources and techniques have been, and could be used by local historians to pursue the issues themselves." Michael Winstanley, The Local Historian
"There is much to appreciate in this book… I was particularly interested in the articles on 'common fields' and enclosure but also very taken by the ones on dress and the village shop and the use of probate inventories, a source underused by local historians." Janet Morris, CALH Review
Joan Thirsk was the leading English agrarian historian of the late 20th century. Perhaps best known for her research into regional farming, she also wrote much about rural industry, changing tastes and fashions, and innovations in the rural economy.
This book is based on a conference held in her honour (following her death in 2013) that was intended not to look back but rather to identify Joan Thirsk's relevance for historians now, and to present new work that has been influenced and inspired by her.
Some of the contributors are scholars who knew Joan, and as students were taught and supervised by her; others are younger people who know of her ideas from her publications.
More about the book

Joan Thirsk's agrarian research revealed rural England to be a rich mosaic of distinct farming regions, each with its own way of working the land.

It had been supposed that, before the Agricultural Revolution, peasants were dull conservatives who resisted innovation and had to be forced into modernity.

Thirsk's work, by contrast, highlighted farmers' ability to respond to the demands of consumers and the capacity of industries to satisfy changing fashions, such as the vogue for knitted stockings. Her writings were informed by a sympathy for country people, which enabled her to appreciate their wisdom and common sense.

The contributors to this book have been inspired by Joan Thirsk's revelation of a lively, varied and developing rural scene, and pursue themes that extend her pioneering work in new ways.

Their chapters on regional differences, farming methods, conflicts over the use of land, shopping opportunities, fashion and consumption resonate with each other and present fresh insights into a world that was undergoing transformation well before the Agricultural Revolution.

Read a sample chapter

About the Editor/s:

---
ISBN: 978-1-909291-56-0 Format: Paperback, 192pp Published: Sep 2016
Any questions
Contact us at UH Press if you have any queries or would like to find out more about this book.