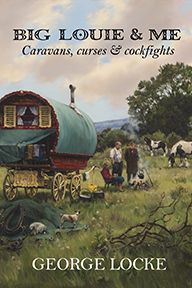 Big Louie and Me
Caravans, curses and cockfights
Author: George Locke
Price: See vendor
Ebook formats
About the book
In 1869 George's great grandmother Alice ran away with a Gypsy boy called Joe Locke, but he soon disappeared when he found out she was carrying a baby. Two years later, when she was sixteen, Alice married her cousin and bore many more children.
At the age of eleven, unable to stand his stepfather's cruelty any longer, George's grandfather set out to search for the birth father he had never met.
Passed from one community of Gypsies to another, after nine months he met a Gypsy woman who stared at him and said, 'You look exactly like my man'. When Joe heard the boy's story, he embraced him and told his wife, "Mercy, this is my eldest son and we're going to look after him".
More about the book

So begins George Locke's warm-hearted memoir of life in a very close-knit Gypsy community in the Black Country.

George's relatives formed the tightest bonds around him, keeping the family safe from outsiders.

His grandmother was known as Big Louie and a more formidable character you couldn't hope (or fear) to meet: four feet ten in every direction, Big Louie smoked a pipe from the age of three and had age-old knowledge of healing plants. No child could forget having Louie's cabbage syrup forced down their sore throat whilst she had them in a headlock with her fingers up their nose.

George's father was the Sherengro or headman of the camp. A former bare-fist champion, he was a hard man but also kindness itself. The prejudice he suffered made him hate bullies and bigots. Nor would he tolerate any cruelty to animals. Yet as a boy George witnessed fighting between both men and animals and was also sometimes caught up in the shenanigans around these illegal fights, where large sums of money changed hands and bookies didn't always honour bets.

From a lifetime teeming with incident, George picks out the best stories from the old days: escapades to curl your hair, run-ins with the gavvers (police), with gamekeepers, with Gypsy-haters. Yet at every turn there's great good humour and always a strong sense of right and wrong. Sadness, too, most poignantly in George's tragic love for Sylvy, a Gypsy girl born on the same day as himself and promised to him in marriage on that day.

This is a book full of lore and quick wit and, above all, a rock-solid belief in family.

Read a sample chapter

About the Author/s:
ISBN: 978-1-907396-82-3 Format: Ebook, 240pp Published: Sep 2012
Any questions
Contact us at UH Press if you have any queries or would like to find out more about this book.