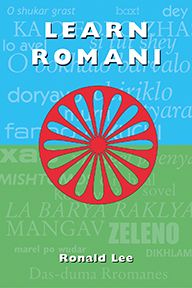 About the book
This course of Romani language lessons is aimed at non-Romanis who want to learn Romani, and also at Romani people who wish to re-learn their ancestral language in its modern form.
Romani has many dialects and no standard written form; this course is based on the Romani language as spoken by the Kalderash Roma in Europe, the US, Canada and Latin America — a native speaker of a particular Kalderash dialect can usually converse fluently with any other Kalderash speaker.
Kalderash-Romani belongs to the Vlax-Romani group of dialects which evolved in central Europe before spreading all over the world. Speakers of Vlax-Romani dialects far outnumber speakers of any other Romani dialect worldwide. The phonetic system used is based on English and is designed to be understood by English speakers.
More about the book

Eighteen lessons take the student from the basic declensions of verbs and nouns, gradually building up vocabulary and grammar.

Romani is a rich, living language, borrowing vigorously from the languages of the countries where its native speakers find themselves. Quotations from these native speakers are printed throughout the book to give a flavour of authenticity, as are poems, songs, proverbs and folk tales which the student will gradually be able to understand.

Bibliographer Edward Proctor has provided a comprehensive list of source materials for further study of Kalderash and related dialects for the interested student.

About the Author/s:
ISBN: 978-1-902806-44-0 Format: Paperback, 320pp Published: Jul 2005
Any questions
Contact us at UH Press if you have any queries or would like to find out more about this book.