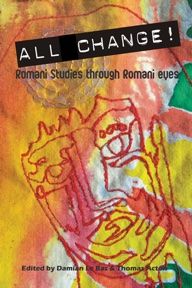 All Change!
Romani Studies through Romani eyes
Editor: Damian Le Bas, Thomas Acton
Price: See vendor
"
"A fresh and thought-provoking collection... [it] offers access to a variety of noteworthy academic opinions from the Roma, Gypsy and Traveller communities. All Change! opposes the accepted culture which debates and makes decisions about Gypsy, Roma and Traveller communities without their consultation. It does this by raising the voice of these communities in the academic arena and adding new insight to existing research."
Ebook formats
About the book
The welcome emergence of a Gypsy/Roma/Traveller academic and intellectual community has stimulated new reflections on and reassessments of many of the established ideas surrounding Romani history and culture.
New questions are being asked and, in turn, new critical challenges have arisen, in part because, for these individuals, Gypsy identity has never been something exotic and Other, but their own.
More about the book

This volume offers new perspectives on the Romani experience from voices that speak with authority and authenticity. Eminent scholar Professor Ian Hancock (University of Texas at Austin) explores how the study of linguistics has shed light on the origins of the Roma.

Dr Adrian Marsh considers the discrimination and prejudice faced by the Gypsies of Turkey whilst Valdemar Kalinin considers the construction of the history of the Roma in Russia.

Dr Brian Belton and Damian Le Bas offer their views on the seemingly elusive idea of Gypsy identity, while Janet Keet-Black argues strongly for the value of exploring personal and family histories.

With its broad survey of international Gypsy politics and culture, this collection brings together the leading Romani scholars of the day in wide-ranging and engaging scholarship.

About the Editor/s:

---
ISBN: 978-1-905313-90-7 Format: Ebook, 96pp Published: Jan 2010
Any questions
Contact us at UH Press if you have any queries or would like to find out more about this book.