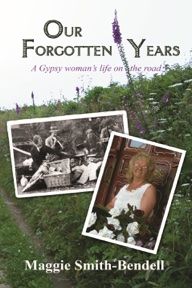 About the book
"Our Forgotten Years is passionate, exhilarating and despairing. A rich work of high literature, a portrait of Travelling through the years. The heartache of constantly being moved on. I particularly identified with the war years and my childhood: it was so true to life. An excellent book, Maggie. Congratulations." Billy Wood, Travellers' Times
Maggie Smith-Bendell was born on the edge of a pea field near Bridgwater in Somerset in 1941. She and her family are Romani Gypsies and as she grew up Maggie learned the old crafts and customs of the Gypsies' traditional way of life.
Her family travelled the length and breadth of the countryside, eking a living from the woods and hedgerows, catching rabbits, pheasants and wild duck. They did all manner of fieldwork for farmers including picking peas, beans and hops – and as soon as Maggie was old enough she contributed to the family's labour.
Ever since they arrived in Europe centuries ago, the Gypsies have been persecuted for their outsider status, but the last sixty years or so have perhaps seen the greatest threats to their culture, to the extent that their traditional way of life is in danger of disappearing altogether: changes in the law, changes in agriculture, many things have undermined the Gypsies' freedom to live as they wish.
More about the book

In this wonderful memoir, full of the language and lore of the Gypsies, Maggie Smith-Bendell gives us a true insight into a way of life that has more or less vanished: driven by the seasons, with an extraordinary closeness to nature, she and her family faced numerous hardships including the deaths of beloved family members.

As well as telling the story of her family's ups and downs in the course of their yearly journeys to the pea-fields of Somerset and the hop-gardens of Herefordshire, Maggie recounts her own journey to become a prominent campaigner for Gypsy rights.

An autobiography told straight from the heart, Our Forgotten Years is both moving and inspiring.

Read a sample chapter

About the Author/s:
ISBN: 978-1-902806-91-4 Format: Paperback, 256pp Published: Nov 2009
Any questions
Contact us at UH Press if you have any queries or would like to find out more about this book.