Undergraduate law courses
We offer undergraduate law degrees as full-time, sandwich, part-time, and accelerated courses.
Study law the Hertfordshire way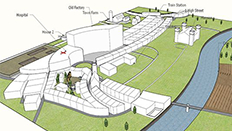 Hertfordshire Law School is at the forefront of legal education. Moving away from the traditional lecture-seminar format we have designed a more engaging approach that is unique among law schools.
Our approach delivers results: just ask the 65.4% of students who graduate with a 1st or 2.1 honours degree each year. We call it the Hertfordshire Way.
Our teaching is delivered in multiple stages:
Lectures on Demand - All your lectures are delivered by academic experts. They are also recorded, creating a personal library across each module. You can watch them wherever and whenever you want via a range of devices.
Develop your skills - Following the lecture, in one-hour small-group tutorials, your lecturers will work with you to develop your understanding of the law, as well as the skills you need to address complex legal issues.
Put what you've learnt into practice - After the tutorial you will have a two-hour workshop, exploring realistic scenarios and legal documents to develop your understanding of the law more effectively. Learning how the law applies in real situations deepens your understanding, helps you retain information more effectively and ultimately makes you more employable.
Large group sessions - These additional lectures focus on assessment support, coinciding with coursework and exam periods.
Weekly surgeries - We offer timetabled drop-in sessions, allowing you to see tutors on a one to one basis to raise any issues.
Hertfordshire Law School students benefit from a planned and varied assessment landscape which makes full use of the academic year and avoids student overload.
Professional accreditation
All our LLB (hons) Law degrees cover the academic stage of professional legal education and are recognised by the Solicitors Regulation Authority (SRA) and Bar Standards Board (BSB).
On graduation from one of our degrees you will be eligible to progress onto the professional stage of training to become a Solicitor or Barrister.
In addition to studying the foundation subjects necessary for a qualifying law degree, our programmes allow you to select modules and specialise in a particular area of law according to your interests or career plans. If you study Commercial Law, Criminal Justice or Government and Politics, your qualifying degree will show this specific pathway, giving you a competitive edge in the employment market.
Added skills
We don't just teach you the law, we immerse you in it. Our original approach provides you with the practical skills sought by employers.
Alongside your degree, and at no additional cost, you will have the chance to take part in 9 co-curricular activities run by the School.
Our aim is that you leave us with a degree and skill set that will set you apart from other law graduates.