Oral Histories
Oral history is a powerful method of capturing experiences, memories and feelings. It is the only form of historical evidence directly open to follow-up questions.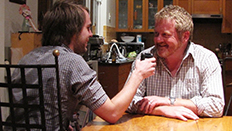 The Oral History Team is led by Senior Research Fellow Andrew Green and works in conjunction with the University's Heritage Hub. The team has worked on a wide variety of projects, including collaborations with University of Western Australia and Stevenage Football Club. We have lots of exciting projects planned for the coming year.
Find out more
Find out more about our exciting projects and how you can get involved by visiting the Oral History Archive pages.