Project funding opportunities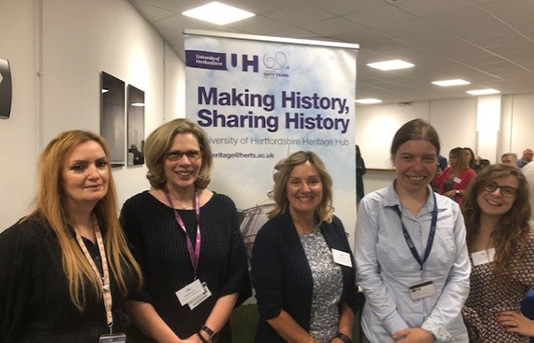 Impact Accelerator Account funding
In 2022, the Arts and Humanities Research Council awarded UH £450,000 through the UKRI Impact Accelerator Account funding programme to make a step change in research to unlock further Impact.
It is open to all academic staff working in the arts and humanities.
*
The IAA at UH comprises 4 streams: Early Stage, Open Impact, Heritage and Art-Science Co-Production and Knowledge Exchange awards
*
As part of the scheme, the Heritage Hub offers the Co-Production Heritage Award: working with non-HEI external partners and the Heritage Hub to co-produce research: through cultural strategy, governance, and delivery.
*
Examples include:
Harris Tweed, to promote recycling and carbon reduction;
memorial sites during the pandemic;
the legacy of British theatre,
Gothic Tourism,
foraging and early medicines.

Are you a UH researcher seeking to co-produce research with a heritage organisation or group? Apply for the IAA community Co-Production in Heritage grant.
There are two calls per year for a grant of up to £7500 for projects involving academic researchers working with community heritage partners.
Current project holders include St Albans Abbey outreach team, Mill Green Museum Hatfield, and Three Rivers Museum Rickmansworth.
See 'News' for more details on how to apply, or if you are a member of UH staff, go to the HertsHub Research Office webpages to access the internal application form.
Contact uh.heritage@herts.ac.uk if you're interested in applying, need some help with the application form, or seek to find an academic researcher to help with your community heritage project.
Project funding and external grants
Collaborate with the Heritage Hub and share in the creation of resources and research.
The University of Hertfordshire already benefits enormously from relationships with community organisations in Hertfordshire and beyond.
We are offering support to groups interested in applying to the National Lottery Heritage Fund.
Whether your group is new to funding applications, or experienced with them, we can help you shape your ideas and guide you through the application process.
Previous activities have included workshops on the sources available to local historians, oral history interviewing using the expertise and training from the UH Oral History Team, and using digital tools such as mapping to take research to wider audiences.
If you are interested in these ideas or have one of your own that you would like us to consider, then contact us at uh.heritage@herts.ac.uk