About the Heritage Hub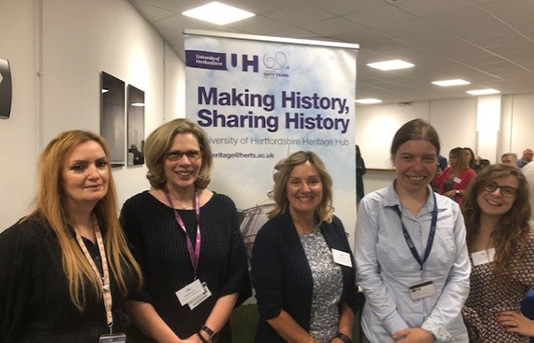 The University of Hertfordshire's Heritage Hub was established in 2010. HHub sits under the UH Research Theme of Heritage, Cultures and Communities.
UH HHub provides an organised, unified, outward-facing identity for UH heritage engagement activities. It is open to all members of staff across all Schools at the University working in the field of heritage and with outside heritage partners, and all students, especially those taking the Doctorate of Heritage (DHeritage). HHub's activities are all participatory and community co-production research in heritage.
UH HHub is led by Prof Katrina Navickas (link: Dr Katrina Navickas - Research Database - University of Hertfordshire (herts.ac.uk), with a steering committee of academics from across the University.
All research staff, teaching staff, and external partners interested in working in heritage are very welcome to join our network.
It is also the umbrella organisation for the Oral History Team (OHT), currently led by Prof Tony Shaw, and facilitated by Senior Research Fellow, Andrew Green. It is composed of UH staff, undergraduate and graduate students, and local community members from the region. It also partners with Heritage for Business, led by Prof Jonathan Morris, which provides consultancy services to corporate clients.