History of Public Health in Hertfordshire
Keep in touch with our oral history project examining the history of public health in Hertfordshire between 1932-2012.
Personal accounts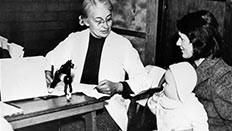 The history of public health in Hertfordshire has been documented in many forms, but there are still gaps.
One area which has not been chronicled is the perspectives of the people of Hertfordshire themselves - their oral histories.
Researchers from the University of Hertfordshire are working with the MRC Lifecourse Epidemiology Unit in Southampton to carry out an oral history project on the history of public health in Hertfordshire from 1932 to the present day.
Child health
One of the earliest protagonists of public health and particularly maternal and child health was Margaret Burnside.
Margaret's meticulous record-keeping of births in Hertfordshire was instrumental in establishing the Hertfordshire Cohort Studies (HCS).
HCS members have been sharing their memories and experiences of public health in Hertfordshire, such as what it was like to be a child with measles, or to take children to the health clinic, or to be a mother in childbirth.
They provide a rich source of information about Hertfordshire's public health history in which local people have played a major part.
The project aims to put these conversations together in a book.
Get involved in the Heritage Hub
Contact us if you have a research idea, would like to get involved in a project, or want to find out more about the University of Hertfordshire's Heritage Hub.