Dr Theo Gilbert's Blog
My Research
Levels of 'alienation' and 'isolation' [i] of students from each other - a kind of fallout from the increasingly competitive pursuit of education – are costing students far more than the hard cash they pay in fees. For several years now I've wondered how to consult with the public (including FE and HE students, their families, academics and policy makers, and perhaps even schools) on some related findings which might offer them many benefits. Somewhat controversially given its competitive HE setting, my research is on institutionalising explicit attention to compassion in teaching, learning and assessment. Working with around 550 university students so far, I've found that students of great diversity - and tutors and external examiners too - are ready, able and very willing to engage with compassion in education practice and policy. Why not? As neuroscience predicts [ii] compassion turbo-charges collective thinking processes in groups.
Compassion is simply the noticing of disadvantaging of others and/or their social or physical distress, and doing something to reduce or prevent it. What's extraordinary is that this definition is agreed across scholarship in anthropology, in neuroscience and in clinical psychology and these are not the only disciplines either that are now researching compassion. But hardly any of this has made any dent, so far, on theory, practice or policy in higher education. And that's despite the huge number of assessed group work tasks for students that have come with the massification of HE.
Nevertheless, compassion does light up how students can get off the high-wire of individualistic competitiveness and internalise a drive to help each other achieve much more, socially and academically. And the time is right to shift the findings from this research, out of the university class room and into the public domain. Working up these skills quickly in teams tasked with problem solving has considerable potential for benefiting work places everywhere, not just the university. I've stayed awake at nights knowing that publishing findings on compassion in the seminar room for a journal on a dusty shelf somewhere isn't likely to contribute much to that anytime soon.
Sparks Might Fly Theatre Commission
That's why the Heritage Hub is irreplaceable for breaking research out of the walls of the university and into the diverse communities beyond, to co-build real social capital with them.
Under its initiative, enter (quite literally) Sparks Might Fly, a 'research-into-performing arts' theatre project, master-minded by UHArts and Stuart Mullins of Hertfordshire University. This in effect, is the cavalry to my research. Its purpose is to translate research into theatre and, in that form, take it to the public. Stuart, Melissa Andrews from UHArts and the Heritage Hub introduced researchers to a wide range of theatre makers for possible collaborations, and amongst those I was helped to meet (something I'd never have achieved by myself) was Vicki Amedume, Artistic Director of Upswing.
The language and choreography of compassion
One of the key issues for inclusive collective thinking is that unfamiliar voices and their sometimes very different perspectives can be crucial to producing evidence of truly resourceful, creative thinking processes. So here's Upswing - making me put my money on compassion where my mouth is. I'm starting to understand how. This strikingly unconventional theatre company specialises in aerial performing arts. And if I thought that student group work spaces were much bigger spaces than they seemed, with teeming psychosocial processes all around them, Upswing's first talent is to use space, all of it, to show that. Look up. This is where Upswing is inviting me to answer questions with them. What does the choreography and language of compassion look and sound like? Students often talk privately of the risks they take when they venture ideas amongst the harsh or competitive, the more articulate or knowledgeable, or, worse, the patently uninterested. So how do we engage students in emotionally intelligent strategies for navigating, on the hoof, risk, risk sharing and trust building in group work? These things, I know now, are the native currency of Upswing artists working and risking together on the ropes in performance.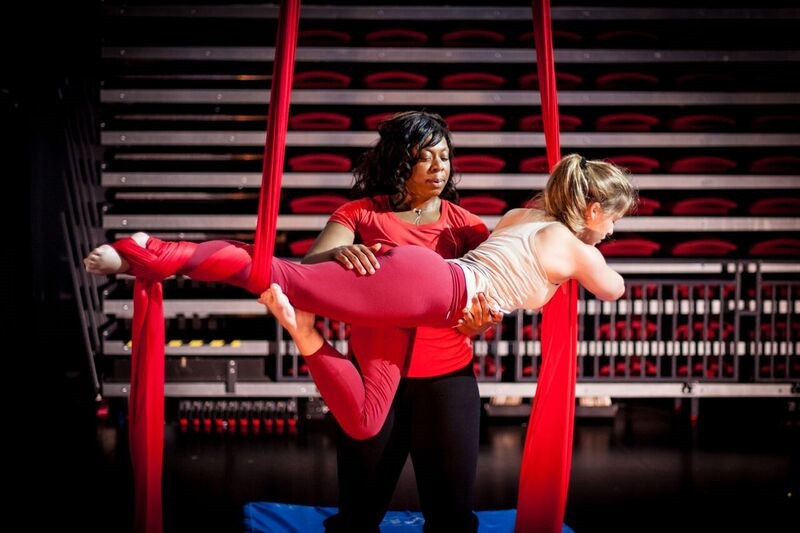 Upswing's Vicki Amedume steadies a fellow artist's confidence. Image courtesy of Upswing Aerial Ltd.
Out of my league? Entirely. But it doesn't matter. This is a collective thinking exercise on how to collaborate on a visual metaphor for the seminar room. In ways I had never imagined, we are fusing research and theatre on a journey to physicalizing how compassion can mediate the outcomes of the often unseen intricacies of group social behaviours. My team members will hold my head above the water just as, it turns out, students could and want to for each other. They just need to see how, and leave behind what happens when they don't.
References
[i] National Union of Students, Race for Equality, p4 [http://www.nus.org.uk/PageFiles/12238/NUS_Race_for_Equality_web.pdf, accessed 1st June, 2016]
[ii] L. Cozolino, The Social Neuroscience of Education, WW Norton & Co, 2013
Video Diary
As part of the research and development process the Heritage Hub asked the researcher and the artist to keep a video diary of the process to give an insight into some of the discussions and activities that took place. Take a look at Dr Gilbert and Vicki Amedume's video diary below.