How to register for a Graduation Ceremony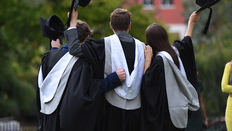 Registration for September 2022 ceremonies will open in June.
The link will be available on this page.
An email invite will be sent to the address on your student record.
You will be asked a set of questions when you register to attend your Graduation Ceremony. This is your only chance to confirm:
Please note:
You must meet the eligibility criteria before you can register to attend a Graduation Ceremony. The graduate ticket is free and included with registration. Any travel or accommodation arrangements made prior to this are entirely at your own risk.
Guidance notes for registration
Please read the guidance notes below or contact us for further details if you have queries about: