Bespoke training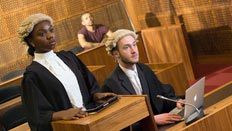 The Cyber Security Centre offers bespoke training to clients from business, government agencies, Police, and MoD.
We offer three themes of training:
Cyber Forensics
Cyber Security Technology
Cyber Security Management
These three themes cover the range of training requirements of corporate organisations, law enforcement, and military. The themes are also consistent with the cybercrime training framework specified by Europol.
The Centre is a member of the European Cybercrime Training and Education Group based at Europol.
We have well equipped specialist computer laboratories, and a unique aspect of our offering is the University's own replica Crown Court courtroom (pictured above) that can be used for training and practice in courtroom procedure.
We are also able to conduct training in Linux system and network administration and Penetration Testing, which are key skills in cyber security.