Facilities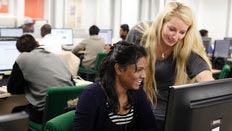 The School of Computer Science has excellent facilities for teaching, training, research and commercial activity in Cyber Security.
Teaching laboratory
We have two teaching laboratories, a 25-seat and a 30-seat, in which each workstation is connected to three networks, using virtualisation to dynamically change the logical layout of the information environment to accommodate the needs of each exercise.
Learners can conduct penetration tests against real targets using the semi-structured, secure and isolated testbed we have developed. All exercises are conducted within a legal and ethical framework.
Learners can also make use of the same testbed for undertaking activities relating to the analysis of data in a forensically sound manner, using the latest digital forensic toolkits (EnCase, FTK, DFF, etc.)
Research support
To support research projects, we have a 64-processor server with 400GB primary memory and 140TB secondary memory on which we run virtualised infrastructures. We can create customised testbeds in a dynamic manner.
We also have specialised equipment for undertaking research in cyber-surveillance, threat intelligence collection, primary and secondary memory analysis, data recovery, big-data analytics, vulnerability identification and exploit development that includes an 8GPU server for cryptographic research.
Commercial activities
To support commercial activities, we have the capability of recovering data (through a PC3000 kit), repairing damaged hard disks (through the use of a clean-box), and undertaking vulnerability identification and penetration testing jobs (through the use of dedicated pentesting rigs).
We are also developing our capability for undertaking case work for Law Enforcement and private organisations. We have isolated and secure resources that can be used for hosting and analysing evidence in a forensically sound manner.
Forensic activities
Additional facilities available on campus include a replica pharmacy shop, which can be used for realistic forensic search of commercial premises. The School has a house in a nearby residential area that can be used for realistic forensic house search exercises.
The nearby Hertfordshire Law School houses a replica Crown Court courtroom, in which students can be trained in a realistic setting to present evidence and to be cross-questioned.