About the Cyber Security Centre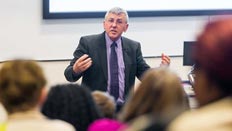 The Cyber Security Centre at the University of Hertfordshire was founded to provide a centre of expertise in the technology and management of cyber security and cyber crime.
National cyber security incidents are identified as Tier One risks by the UK National Security Strategy and are a recognised priority in the UK Strategic Policing Requirement.
The Cyber Security Centre provides training, teaching and research in the fast paced topics of cyber security and digital forensics. The Centre is ready to prepare clients such as police forces, government agencies and commercial organisations with knowledge, skills, and training through long term partnerships.
History
The connection of the University with cyber security can be traced back to 1976, when Sir Norman Lindop, Principal of the then named Hatfield College of Technology, was commissioned by HMG to prepare a report containing recommendations as to the aims to be achieved by data protection and on the substance of future data protection legislation. The publication of the Lindop Report in 1978 led eventually to the passage of the Data Protection Act 1984.
More recently, the School of Computer Science has been organising the annual Security Protocols Workshop for the past 18 years, and in July 2015, the School hosted the 14th European Conference on Cyber Warfare and Security. The new undergraduate curriculum, introduced in 2014, includes cybersecurity as an essential part of the core syllabus.
Aims and objectives
The Cyber Security Centre is based within the School of Computer Science. The Centre has a core team of academic staff, strong working relationships with operational partners, and links with industry associations and companies. The aim of the Centre is to undertake research, teaching and training in the following areas:
Cyber security and early warning systems,
Threat assessment and threat measurement,
Digital forensics and e-discovery of information,
Vulnerability assessment and control,
Offensive and defensive cyber operations
The objectives of the Centre are:
To investigate the nature of modern threats posed to information infrastructures,
To investigate and develop different types of systems that will allow SMEs to proactively defend their integrated supply chain,
To investigate and develop digital forensic analysis tools and techniques that will allow the collection of evidence in heterogeneous large scale computing infrastructures,
To investigate and develop tools and techniques that will allow the identification and assessment of vulnerabilities of information systems,
To investigate weaponised cyberattack and countermeasures for critical infrastructure.
The Centre has a strong and well-established theme in the areas of cyber security, digital forensics and threat assessment. The group is focusing on the issues associated with the design and development of proactive systems that are capable of detecting and responding to a variety of cyber based attacks, and on the issues associated with collecting digital forensic evidence from heterogeneous large scale computing environments.