About the department of Biological and Environmental Sciences
The Department of Biological and Environmental Sciences focuses on some of the most vital and rapidly evolving disciplines - Biosciences, Geographical, Environmental and Agricultural Sciences as well as the food sciences within Dietetics and Nutrition.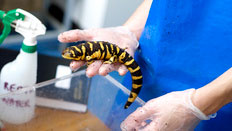 We deliver career-relevant Undergraduate, Postgraduate and Research degrees and short courses in all 3 areas and are active in research, consultancy and training, with strong links to education and commerce worldwide.
We also offer excellent opportunities to travel and gain valuable work experience with well-known employers.
The University has invested heavily and continues to do so to ensure that the department has the latest state of the art facilities and equipment to deliver cutting edge teaching, training and research. In September 2015 the School of Life and Medical Science will be moving in to a brand new £50M science building. This will create cross curricular study opportunities cross the School's departments as well as shared research areas.
Please see our facilities page for a full list of facilities in each of our subject areas.
Research focus
We encourage students to achieve their best by offering research-led course content, practice in applying skills, and a friendly environment. We also have a highly qualified and experienced academic staff, widely recognised for their expertise.
We are strong in research, managing an active agenda in 3 areas of expertise:
Biotechnology and Molecular Biology, Geography and Environmental Sciences as well as Agriculture and Food Sciences. In different ways our projects aim to improve people's quality of life. They currently focus on applying biotechnology and molecular biology to the environment and plant productivity, analysis of air pollution, the geography of transport planning, diagnosis of tuberculosis. Find out more about our research.
Enterprise partnerships
We have long-standing partnerships with leading industry players who directly access our expertise and resources.
At our dedicated Science Training Centre we run popular short courses in biosciences and environmental management, which can be tailored to company needs. We've trained over 12,000 scientists from across the biological and pharmaceutical industries since 1990.
At the Biodeterioration Centre we carry out microbiological testing on water, air and aircraft fuel for companies such as leisure centres, investment banks, pharmaceutical firms and supermarkets.
We also consult on diverse geographical and environmental issues, such as EU policy, remote sensing and GIS, plant disease diagnosis, and local government organisation and planning.
Our scientists also provide industry with consultancy, laboratory services and interactive e-learning media.